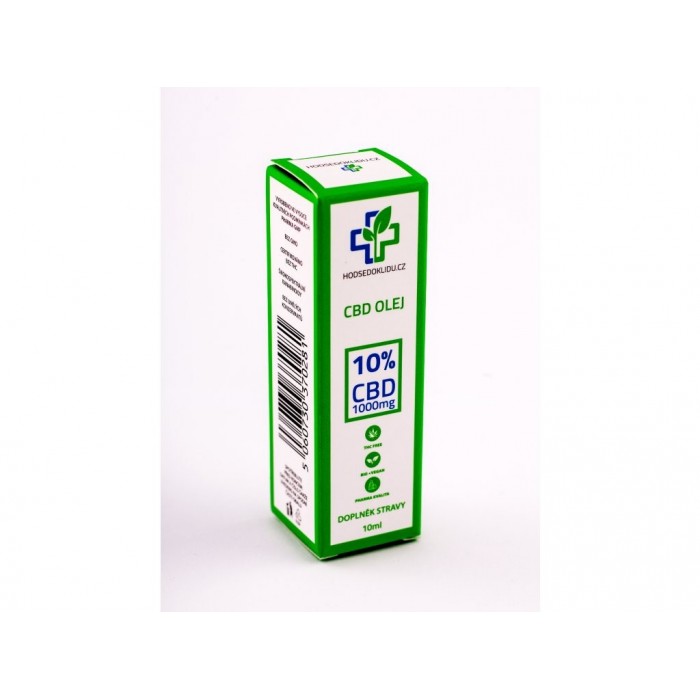 Hodsedoklidu.cz CBD drops 10% in natural MCT oil (0.0 THC)
CZK 595.04 bez DPH
CZK 720.00
CZK 595.04 without VAT
Delivery 1-3 working days

Price history

Nejnižší cena za posledních 30 dnů: CZK 420.00
CBD drops 10% in MCT Oil Natural (0.0 THC) are premium CBD drops with broad-spectrum cannabinoids, terpenes and flavonoids made with certified organic MCT oil. Top quality pharmaceutical grade product. CBD drops come in glass bottles with a medical pipette.
Premium broad spectrum CBD drops are all natural and rich in terpenes and flavonoids. They have a high content of omega-3 and omega-6 fatty acids. They do not contain any THC or artificial colors or preservatives. Due to their composition and high quality, they are an ideal dietary supplement for supporting better body function or in the treatment of various chronic diseases and long-term health problems.
WHO ARE CBD DROPS FOR?
CBD has positive effects on the human organism. Its healing properties in combination with high-quality additional components of CBD oils form an effective weapon for, for example:
fight against inflammation in the body

nausea

migraines and menstrual pains

fight against psychosis

supportive treatment of depression and anxiety

prevention of epileptic seizures
Use
Place the drops under the tongue and wait 60 seconds, then swallow. You can drink it with water.
Take at least 30 minutes before a meal.
Dosage
5-10 drops/day. 1 drop contains approximately 3.24 mg of CBD 
Do not exceed the recommended daily dose.
The package contains approximately 308 drops.
Ingredients
MCT oil (BIO), CBD isolate, Hemp leaf extract, Rosemary extract (annual sunflower seed oil, Rosemary leaf extract). 
The product does not contain parabens, artificial dyes, pesticides, herbicides, nicotine and does not contain any toxins, heavy metals, solvents or synthetic cannabinoids.
Important: This product is not intended for sale to persons under the age of 18. This product should only be used as directed on its label. Do not use the product during pregnancy or breastfeeding. If you have a serious medical condition or are using prescription medication, consult your doctor before use.
Made in pharmaceutical conditions
- Pharma GMP
- Non-GMO
- Broad spectrum cannabinoids
- No artificial preservatives
- Vegan friendly
Certificate 
In the same category:



Customers who bought this product also bought: