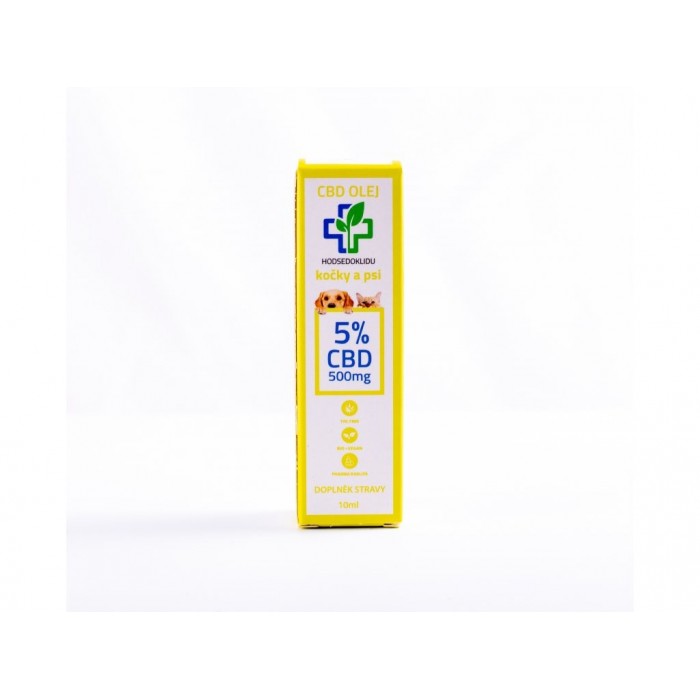 Hodsedoklidu.cz CBD drops 5% for cats and dogs in salmon oil
CZK 289.26 bez DPH
CZK 350.00
CZK 289.26 without VAT
Delivery 1-3 working days

Price history

Nejnižší cena za posledních 30 dnů: CZK 350.00
Top CBD oil for cats and dogs has a very positive effect on animals. Better mood, beautiful fur, pain relief and other bonuses for a better quality of life for your pet. Supplied in 10 ml glass bottles with a medical pipette.
Premium broad spectrum CBD drops are all natural and rich in terpenes and flavonoids. They have a high content of omega-3 and omega-6 fatty acids. They do not contain any THC or artificial colors or preservatives. Due to their composition and high quality, they are an ideal dietary supplement for supporting better body function or in the treatment of various chronic diseases and long-term health problems.
Use
You should best give CBD oil to your animal directly in the mouth, ideally under the tongue or massage the gums with it for about 60 seconds. 
Dosage
Once a day, 1 drop per 2 kg animal, regular use, 1 drop contains approximately 1.6 mg of CBD, recommended for animals from 6 months.
Do not exceed the recommended daily dose. 
The package contains approximately 308 drops.
Made in pharmaceutical conditions
Pharma GMP
Ingredients
500mg CBD, salmon oil
The product does not contain parabens, artificial dyes, pesticides, herbicides, nicotine and does not contain any toxins, heavy metals, solvents or synthetic cannabinoids.
In the same category: