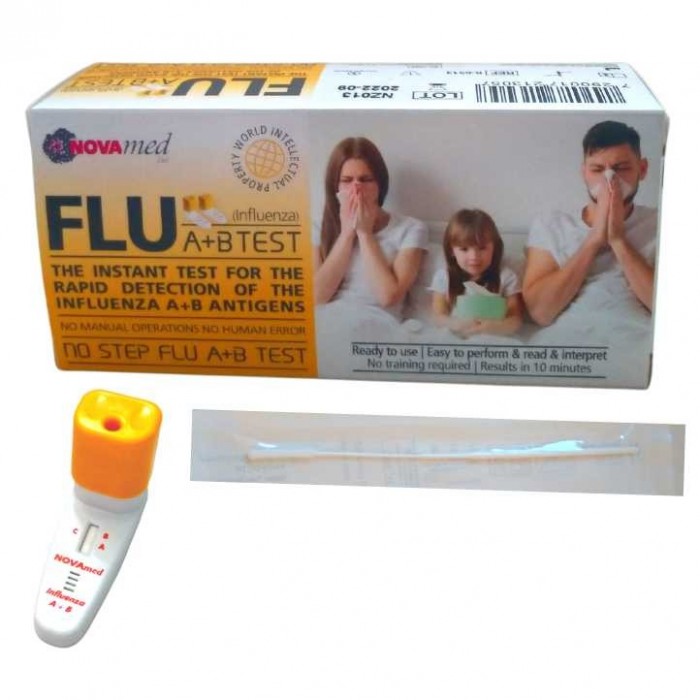 Novamed No Step FLU A+B Test - home flu test
CZK 239.67 bez DPH
CZK 290.00
CZK 239.67 without VAT
Delivery 1-3 working days

Price history

Nejnižší cena za posledních 30 dnů: CZK 290.00
A quick, simple and reliable test for early detection of influenza A and B antigens from nasal swabs. You will know the result in 10 minutes.
The No-Step Influenza A+B Test is a rapid immunoassay for the qualitative detection of influenza A (including A/H1N1, A/H3N2, A/H5N1 subtypes) and type B antigens from nasal swab samples. It serves as an aid to the preliminary diagnosis of type A and/or type B influenza.
The test is performed like a normal nasal swab, you will know the result in a few minutes right in the comfort of your home.
The NO-STEP Influ A+B Test for home use is definitely worthwhile, for example, for people with time-consuming jobs who can get a rough idea of the severity of their health condition in a few minutes.
But it is also useful for mothers with young children, who can find out whether it is really necessary to visit a crowded waiting room with a risk of further infection.
This revolutionary diagnostic from the renowned Israeli company Novamed Ltd. has all the necessary medical certificates and long-term approvals. The solution is patent protected.
There is no need to work with reagents and test tubes.
ADVANTAGES
- Safe and reliable detection of a group of influenza antigens.
- Simply insert a throat swab into the detector opening and press the button to activate the test.
- The result is known in less than 10 minutes.
EASY TO USE
- Unique patented all-in-one device allows for easy testing and evaluation.
- A truly one-step procedure: simply insert the swab into the test case and press the button.
- Completely user-safe. No operator involvement in handling test reagents.
- Anyone can do it!
PACKAGING
- All necessary test components are integrated into a unique platform.
- Individual packaging for easy testing and safe disposal after use.
PACKAGE CONTENTS
Each No Step FLU A+B Test Kit contains everything needed to perform one test:
- 1 No Step FLU A+B Test device, housed in a separate plastic case with desiccant.
- 1 sterile polyester swab/applicator (squeegee).
- Instructions for use (in Aj and Chj).
STORAGE AND PRESERVATION
Store wrapped in a sealed container in the refrigerator or at room temperature (+2°C - +30°C). Do not store in the freezer. The expiry date is indicated on the packaging.
Data sheet
Expiration date:

2024-10
In the same category:


Customers who bought this product also bought: