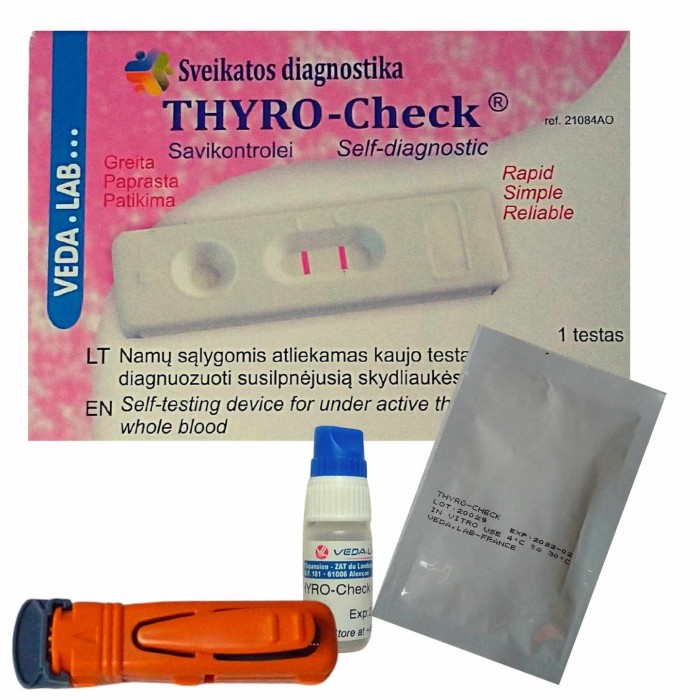 VEDA Lab TSH test - home test of thyroid function
CZK 322.31 bez DPH
CZK 390.00
CZK 322.31 without VAT
Delivery 1-3 working days
VEDA Lab Thyroid-TSH test detects an increased value of TSH from capillary blood. The test helps in the diagnosis of thyroid disease, especially its reduced function (hypothyroidism) and related problems.
Poruchy štítné žlázy patří mezi nejčastější zdravotní obtíže na světě. Trpí jimi především ženy a obecně mají, obzvláště hypofunkce (snížená funkce) štítné žlázy, ve společnosti vzrůstající tendenci. Mezi příznaky snížené funkce štítné žlázy patří pocit únavy a letargie, přibývání na váze, suchá pokožka a třepící se vlasy, zapomnětlivost, deprese, zimomřivost, přetrvávající zácpa, u žen nepravidelná menstruace.
Jste si jistí, že je vaše štítná žláza v pořádku?
Příznaky onemocnění štítné žlázy?
V počátečním stádiu onemocnění štítné žlázy se lidé vůbec necítí špatně. V případě zhoršení nemocní trpí následujícími příznaky:
  Únava
  Deprese
  Zimomřivost
  Přibývání na váze
  Suchá pokožka
  Třepící se vlasy
  Častá zácpa
  U žen nepravidelná menstruace
Vyšetření se provádí jako běžný odběr kapilární krve z konečku prstu, ale výsledek znáte za pár minut přímo v pohodlí domova.
Kotraindiakce: TSH TEST lze použít kdykoli během dne. Nicméně by se neměl, a ani se nedoporučuje provádět jej v případě již probíhající medikamentózní léčby hormony štítné žlázy.
VEDA Lab Štítná žláza - TSH test  se určitě vyplatí například lidem s časově náročným zaměstnáním, kteří si díky němu mohou během několika minut udělat orientační představu o závažnosti svého zdravotního stavu.
Testy jsou vhodné i pro kontrolní domácí diagnostiku.
Tato diagnostika od renomované francouzské společnosti VEDA Lab má veškeré potřebné zdravotní certifikáty a dlouhodobé atesty. 
VÝHODY
• Rychlá, bezpečná a přesná detekce funkce štítné žlázy z kapilární krve.
• Výsledek je znám za méně než 10-15 minut.
SNADNÉ POUŽITÍ
• Unikátní zařízení typu all-in-one umožňuje snadné testování a vyhodnocení.
• Uživatelsky zcela bezpečné. 
• Zvládne to každý!
BALENÍ
Testovací sada obsahuje vše potřebné k provedení 1 testu.
Přiložený hliníkový sáček obsahuje:
1 plastovou pipetu
1 Thyroid TSH testovací kazetu
1 sterilní lanceta k odebrání vzorku krve
1 dezinfekční ubrousek
1 lahvičku s kapátkem, obsahuje 1 ml činidla
Návod k použití v českém jazyce
SKLADOVÁNÍ A UCHOVÁVÁNÍ
 

Skladujte při pokojové teplotě mezi 4 - 30°C.

 

Testovací sadu neuchovávejte v lednici ani v mrazničce.

 

Před použitím nevystavujte testovací sadu vlhkosti, horku.

 Testovací sadu

 použijte neprodleně po vybalení z obalu.
Data sheet
Expiration date:

2024-03
In the same category:


Customers who bought this product also bought: