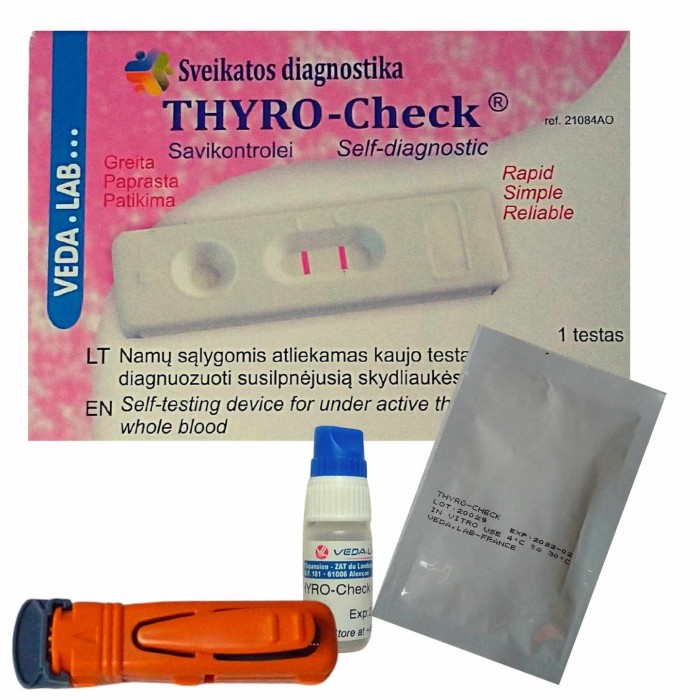 VEDA Lab TSH test - home test of thyroid function
CZK 322.31 bez DPH
CZK 390.00
CZK 322.31 without VAT
Delivery 1-3 working days

Price history

Lowest price in the last 30 days: CZK 390.00
VEDA Lab Thyroid-TSH test detects an increased value of TSH from capillary blood. The test helps in the diagnosis of thyroid disease, especially its reduced function (hypothyroidism) and related problems.
Thyroid disorders are among the most common health problems in the world. They affect mainly women and, in general, especially hypofunction (reduced function) of the thyroid gland is on the rise in society. Symptoms of reduced thyroid function include feeling tired and lethargic, weight gain, dry skin and frizzy hair, forgetfulness, depression, coldness, persistent constipation, and irregular menstruation in women.
Are you sure your thyroid is okay?
Symptoms of thyroid disease?
In the early stages of thyroid disease, people do not feel sick at all. If it gets worse, sufferers suffer from the following symptoms:
  Fatigue
  Depression
  Chills
  Weight gain
  Dry skin
  Shaky hair
  Frequent constipation
  Irregular menstruation in women
The test is performed like a regular capillary blood draw from your fingertip, but you can know the result in minutes right in the comfort of your home.
TSH TEST can be used at any time of the day. However, it should not, and is not recommended to be performed if you are already on thyroid hormone medication.
The VEDA Lab Thyroid - TSH test is certainly worthwhile, for example, for people with time-consuming jobs, who can use it to get a rough idea of the severity of their health condition in a few minutes.
The tests are also suitable for checking home diagnostics.
These diagnostics from the renowned French company VEDA Lab have all the necessary health certificates and long-term approvals. 
ADVANTAGES
- Fast, safe and accurate detection of thyroid function from capillary blood.
- The result is known in less than 10-15 minutes.
EASY TO USE
- Unique all-in-one device allows for easy testing and evaluation.
- Completely user-safe. 
- Anyone can do it!
PACKAGING
The test kit contains everything needed to perform 1 test.
The enclosed aluminium bag contains:
1 plastic pipette
1 Thyroid TSH test cartridge
1 sterile lancet to draw a blood sample
1 disinfectant wipe
1 dropper bottle containing 1 ml of reagent
Instructions for use in English
STORAGE AND PRESERVATION
Store at room temperature between 4 - 30°C.
Do not store the test kit in the refrigerator or freezer.
Do not expose the test kit to moisture, heat before use.
Use the test kit immediately after unpacking.
Data sheet
Expiration date:

2024-03
In the same category:


Customers who bought this product also bought: