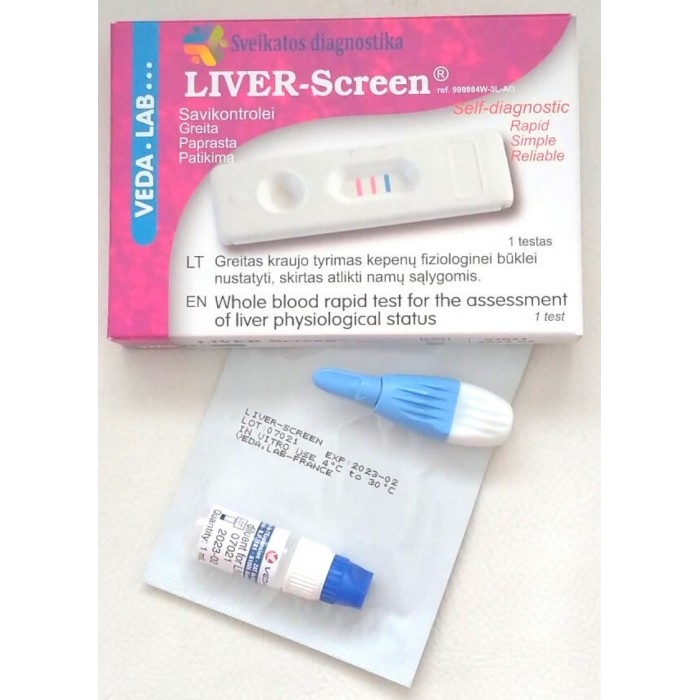 Veda Lab Liver Screen - home test for correct liver function
CZK 404.96 bez DPH
CZK 490.00

Price history

Lowest price in the last 30 days: CZK 490.00
A quick, simple and reliable test to detect possible liver damage or disease. Only one drop of blood taken from a finger is enough to use the test.
The liver is one of the indispensable organs of the human body and plays an important role in maintaining the health of the body. They play a vital role in metabolism (metabolism of sugars, fats, breakdown of proteins into amino acids), rid the body of waste substances and store energy. 
Symptoms of liver disease include dark-colored urine, light-colored stools, lack of appetite, yellow discoloration of mucous membranes, the whites of the eyes or skin (jaundice-icterus), abdominal enlargement, general weakness and a feeling of exhaustion. Liver disease can have many causes, e.g. hepatitis, side effects of drugs, cirrhosis due to excessive alcohol consumption, overweight (especially in diabetes), high blood pressure. 
LIVER-Screen®, designed to detect elevated transaminase levels (ALT and AST) in the blood, is a rapid immunological test suitable for detecting possible liver damage or disease. Only one drop of blood, taken from the finger, is needed to use the test.
The test cassette contains a results window with two distinct test zones for the detection of transaminases (a red bar is displayed in case of positivity) and one control zone (a blue bar is displayed). 
The tests are also suitable for post-treatment home diagnostics.
This diagnostic from the renowned French company Veda Lab has all the necessary health certificates and long-term approvals. 
ADVANTAGES
- Safe and accurate detection of liver damage or disease 
- The result is known in less than 10 minutes.
EASY TO USE
- All-in-one device allows for easy testing and evaluation.
- Anyone can do it!
PACKAGING
- All necessary test components are integrated into a single platform.
- Individual packaging for easy testing and safe disposal after use.
SET CONTENTS
Each kit contains everything needed to perform 1 test.
1 aluminum bag containing:
   - 1 test cartridge
   - 1 pipette
   - 1 desiccant bag
1 sterile blood collection lancet
1 dropper bottle containing 1 ml of reagent solution
Instructions for use in English
STORAGE AND PRESERVATION
Store sealed in the original packaging in the refrigerator or at room temperature (4-30°C). The expiry date is indicated on the packaging. The test must remain in the original packaging before use. Do not freeze.
Data sheet
Expiration date:

2023-11
Customers who bought this product also bought: