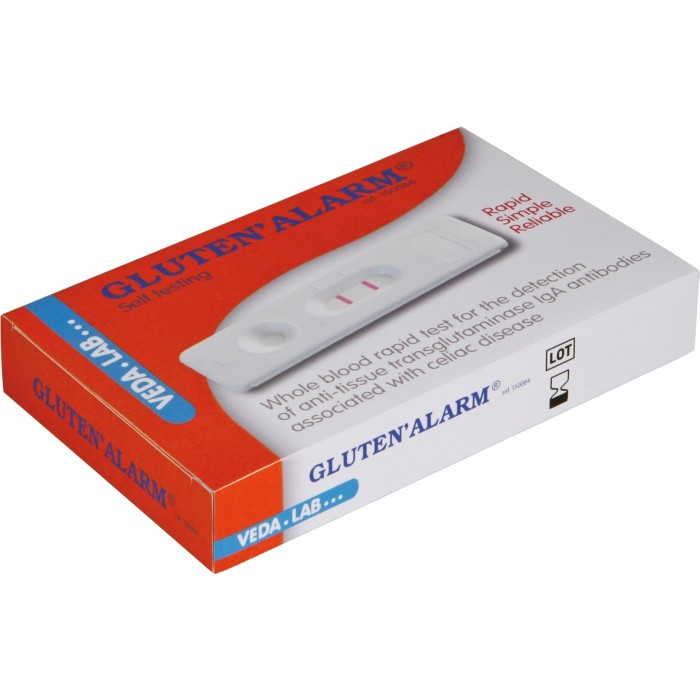 Veda Lab GLUTEN ALARM - home test for celiac disease
CZK 322.31 bez DPH
CZK 390.00

Price history

Lowest price in the last 30 days: CZK 390.00
Veda Lab GLUTEN ALARM© is a home test to determine gluten intolerance (celiac disease). Simple, fast, reliable.
Celiac disease is a lifelong disease caused by gluten intolerance. People with this intolerance develop inflammation of the mucosa of the small intestine due to gluten, which leads to the destruction of mucosal villi and microvilli. As a result, the surface of the small intestine shrinks, reducing its ability to digest and absorb nutrients. 
Typical symptoms of celiac disease are diarrhoea, flatulence, abdominal cramps, weight loss and fatigue.
This disorder can manifest itself at any age - in childhood and adulthood. In children, celiac disease most often appears soon after they are first given a diet containing gluten. In most cases, children begin to suffer from diarrhoea, and bulky and smelly stools are typical. Abdominal pain may be present and gradually increase in intensity. Children lose their appetite, are often tearful and cranky. They lose weight and grow little, do not thrive. Anemia, caused by iron deficiency, may also occur.
In older children and in adults, the disease may become apparent after significant stress (e.g. illness, pregnancy). Symptoms are: reduced appetite, diarrhoea, bloating and constipation. However, instead of intestinal manifestations, a patient with celiac disease may also suffer from extra-intestinal manifestations such as anaemia, osteoporosis (thinning of the bones), increased tooth decay, aphthae, enamel disorders, joint pain, fatigue, or mental disorders such as depression and anxiety. In women, celiac disease may be associated with later onset and irregularity of menstruation, and infertility and spontaneous abortion are common.
However, coeliac disease may not have any symptoms and can be diagnosed by searching for the disease in relatives of an already diagnosed coeliac.
Because of the great variety of manifestations of the disease, celiac disease is difficult to diagnose early and correctly in many cases, which is why it is called CHAMELEON'S DISEASE.
The test is carried out like a normal capillary blood sampling from the fingertip, but you know the result in a few minutes right in the comfort of your home.
The Veda Lab Gluten Alarm test is certainly worthwhile, for example for people with time-consuming jobs, who can get an indication of the severity of their health condition in a few minutes.
The tests are also suitable for home diagnostics.
These diagnostics from the renowned French company Veda Lab have all the necessary health certificates and long-term approvals. 
ADVANTAGES
- Fast, safe and accurate detection of antibody levels from capillary blood.
- The result is known in about 20 minutes.
EASY TO USE
- Simple all-in-one device allows easy testing and evaluation.
- Completely user-safe. 
- Anyone can do it!
PACKAGING
The test kit contains everything needed to perform 1 test.
The enclosed aluminium bag contains
1 test cassette (Gluten Check) in sealed packaging
1 pipette
1 sachet with desiccant
1 sterile lancet for blood collection
1 dropper bottle containing 1ml of reagent solution
1 disinfectant wipe
instructions for use 
STORAGE AND PRESERVATION
Not for internal use.
Keep out of reach of children
Protect from sunlight, do not freeze.
Store in a dry place at 4° C to 30° C.
Do not use after the expiry date stated on the packaging.
Data sheet
Expiration date:

2024-04
Customers who bought this product also bought: