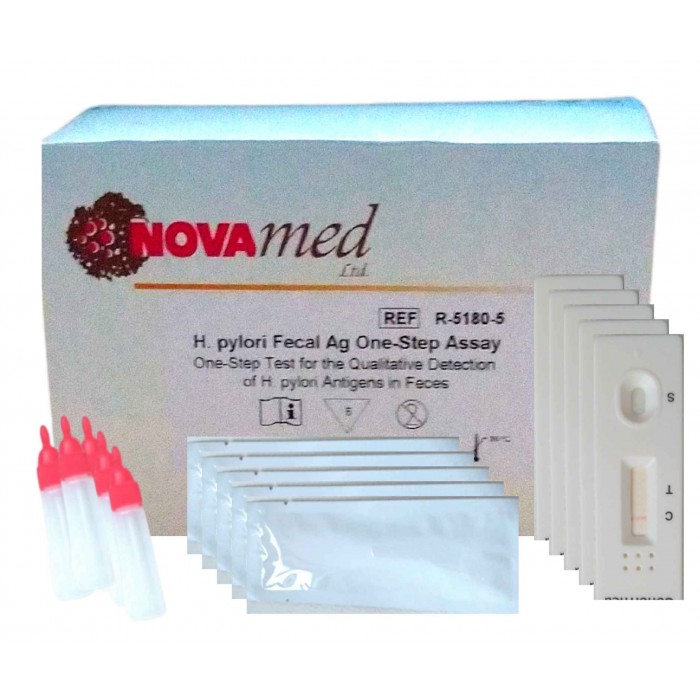 Novamed Helicobacter Pylori test - home test for Helicobacter pylori - 5 pcs pylori
CZK 561.98 bez DPH
CZK 680.00
CZK 561.98 without VAT
Delivery 1-3 working days

Price history

Nejnižší cena za posledních 30 dnů: CZK 680.00
A quick, simple and reliable test to detect the presence of the bacterium Helicobacter pylori from a stool sample. 5 tests in one package. For the prevention of stomach diseases and for control after treatment.
Helicobacter pylori causes a bacterial infection of the lining of the stomach and duodenum with various accompanying problems that can lead to chronic inflammation or even stomach cancer. However, early diagnosis and modern treatment can eliminate the helicobacter and prevent complications. Helicobacter infection is transmitted by oro-oral or feco-oral transmission from an infected person or from objects with which the infected person has been in contact.

Helicobacter pylori is one of the most common infections today. According to statistics, more than 50% of the world's population suffers from this infection. Yet most people who are infected do not even know that they are infected. This is mainly because helicobacter does not initially manifest itself in any significant way and the initial symptoms are easily confused with common digestive problems.

Symptoms of helicobacter
As the infection develops, the natural mucous protective layer of the stomach wall is damaged and stomach acids begin to act on it, causing gastritis (inflammation of the stomach). The infected person experiences symptoms comparable to burning in the stomach and oesophagus. H. pylori infection is signaled by:
- Bloating,
- stomach burning and abdominal pain,
- nausea and vomiting,
- lack of appetite and feelings of indigestion.
If these stomach problems are experienced regularly and for a long time, the development of infection is very likely, Helicobacter pylori has settled in the lining of the stomach, and here it multiplies.

The examination is carried out as a normal stool sampling, but you will know the result in a few minutes right in the comfort of your home.

The Helicobacter Pylori One-Step-Assay test is certainly worthwhile, for example, for people with time-consuming jobs, who can get a rough idea of the severity of their condition in a few minutes.

The tests are also suitable for home diagnosis after treatment.

These diagnostics from the renowned Israeli company Novamed Ltd. have all the necessary health certificates and long-term approvals. The solution is patent protected.

ADVANTAGES
- Safe and accurate detection of H. Pylori e stool sample.
- The result is known in less than 15 minutes.

EASY TO USE
- Unique all-in-one device allows for easy testing and evaluation.
- Completely user-safe. No operator involvement in handling test reagents.
- Anyone can do it!

PACKAGING
- All necessary test components are integrated into a unique platform.
- Individual packaging for easy testing and safe disposal after use.
- Each package contains 5 kits to perform 5 tests.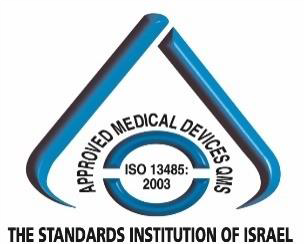 KIT CONTENTS
Each Helicobacter Pylori One-Step Assay Kit contains everything needed to perform 1 test.
1 Novamed H. Pylori Fecal Antigen One Step Assay Kit
1 tube of dilution solution
1 instruction manual in English

STORAGE AND PRESERVATION
Store sealed in the original container in the refrigerator or at room temperature (2-30°C). The expiry date is indicated on the packaging. The test must remain in its original packaging before use.
Do not freeze.
Data sheet
Expiration date:

2023-03
Customers who bought this product also bought: