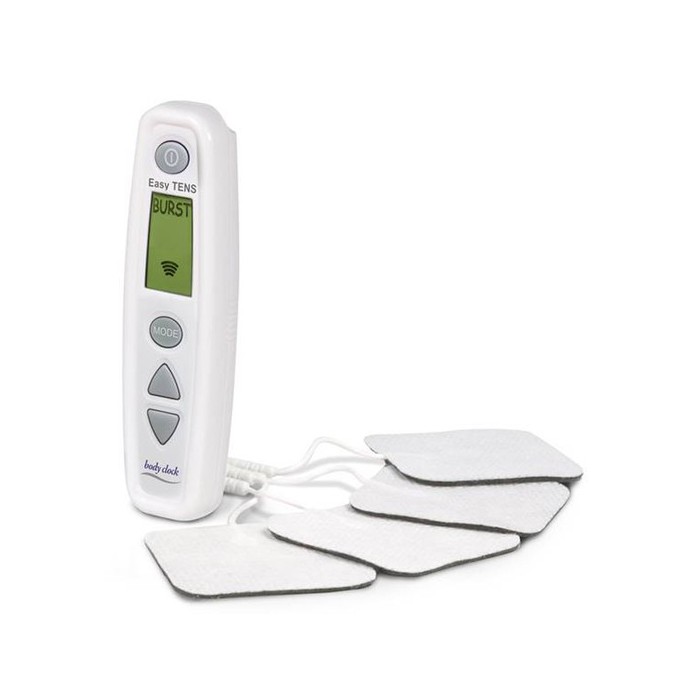 Body Clock Easy Tens - electronic pain relief
CZK 1,066.12 bez DPH
CZK 1,290.00
CZK 1,066.12 without VAT
Delivery 1-3 working days
An efficient lightweight digital device with a sophisticated and very simple way of operation.
VLASTNOSTI:
Může být používán se  2 nebo 4 podložkami s elektrodami.
4 přednastavitelné režimy: konstantní, dávkový, modulovatelný, režim se smíšenou frekvencí.
2 přívodní kabely - 1 pro  2 podložky a 1 pro  4 podložky.
Snadné použití.
Velký digitální display.
Ergonomické provedení.
Řemínek pro zavěšení na krk.
Malý: 12 x 3 x 1,5cm.
Ultralehký: 40g.
Komplet obsahuje:
4 podložky s elektrodami.
2 napájecí kabely k podložkám.
Řemínek na krk.
Měkké pouzdro Easy Tens.
2 x AA baterie.
Návod k použití v českém jazyce.
VAROVÁNÍ: Easy TENS by neměl být používán pacienty s kardiostimulátorem. Těhotné ženy a pacienti se srdečním onemocněním nebo s epilepsií by měli použití vždy konzultovat s ošetřujícím lékařem!
NEPOUŽÍVEJTE
při lékařsky NEDIAGNOSTIKOVANÉ bolesti!
NEPOUŽÍVEJTE
při řízení vozidla nebo při obsluze
těžké techniky
!
Data sheet
Height

40g

Size

12 x 3 x 1,5cm

Warranty

5 years
Customers who bought this product also bought: