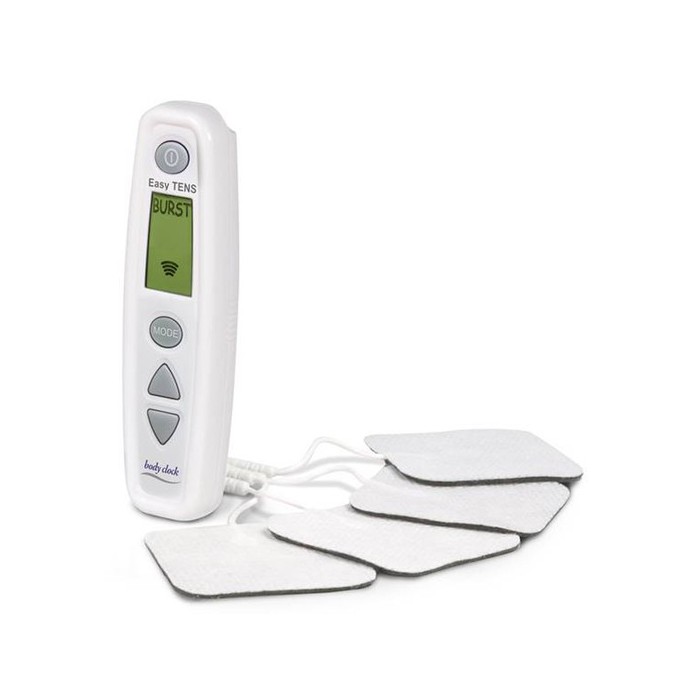 Body Clock Easy Tens - electronic pain relief
CZK 1,066.12 bez DPH
CZK 1,290.00
CZK 1,066.12 without VAT
Delivery 1-3 working days

Price history

Lowest price in the last 30 days: CZK 1,290.00
An efficient lightweight digital device with a sophisticated and very simple way of operation.
FEATURES:
Can be used with 2 or 4 electrode pads.
4 presettable modes: constant, batch, modulating, mixed frequency mode.
2 lead cables - 1 for 2 pads and 1 for 4 pads.

Easy to use.
Large digital display.
Ergonomic design.
Neck strap.

Small: 12 x 3 x 1.5cm.
Ultralight: 40g.

Set includes:
4 pads with electrodes.
2 power cords for the pads.
Neck strap.
Soft Easy Tens case.
2 x AA batteries.
Instructions for use in English language.

WARNING: Easy TENS should not be used by patients with a pacemaker. Pregnant women and patients with heart disease or epilepsy should always consult their physician for use!

DO NOT use in medically UNDIAGNOSED pain!
DO NOT use when driving or operating heavy equipment!
Data sheet
Height

40g

Size

12 x 3 x 1,5cm

Warranty

5 years
Customers who bought this product also bought: