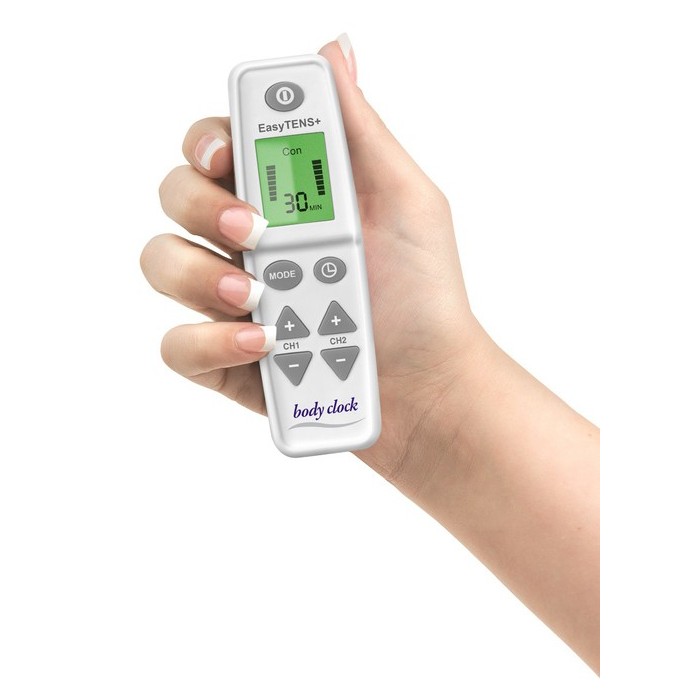 Body Clock Easy Tens Plus - electronic pain relief
CZK 1,338.84 bez DPH
CZK 1,620.00
CZK 1,338.84 without VAT
Delivery 1-3 working days

Price history

Lowest price in the last 30 days: CZK 1,620.00
Two-channel digital light device with a very intuitive way of operation. Simple and effective pain relief.
Body Clock Easy Tens Plus is ideal for a range of acute and chronic pain conditions. Suitable for end users and professionals.

Can be used with 2 or 4 electrode pads. 5 preset modes: constant, batch, modulating, Han stimulation*, mixed frequency mode.

Individual modes can be customized according to your wishes.

*Han stimulation:
Designed by Professor Han, the principle is to switch between two modes to cause simultaneous activation of the encephalin and dynorphin systems, creating a more effective analgesic effect to combat pain.

Features and benefits
Rapid pain relief
5 preset modes
Han Stimulation*
User mode adjustment
Compact and lightweight
Can save settings
Large digital display.

Small: 12.5 x 4 x 2cm.
Ultralight: 52g.

Kit includes:
4 pads with electrodes.
2 power cords for the pads.
Neck strap.
Soft case Easy Tens+.
2 x AAA batteries.
Instructions for use in English language.

WARNING: Easy TENS+ should not be used by patients with pacemakers. Pregnant women and patients with heart disease or epilepsy should always consult their physician for use!

DO NOT use in medically UNDIAGNOSED pain!
DO NOT use when driving or operating heavy equipment!


Data sheet
Height

52g

Size

12,5 x 4 x 2cm

Warranty

5 years
Customers who bought this product also bought: