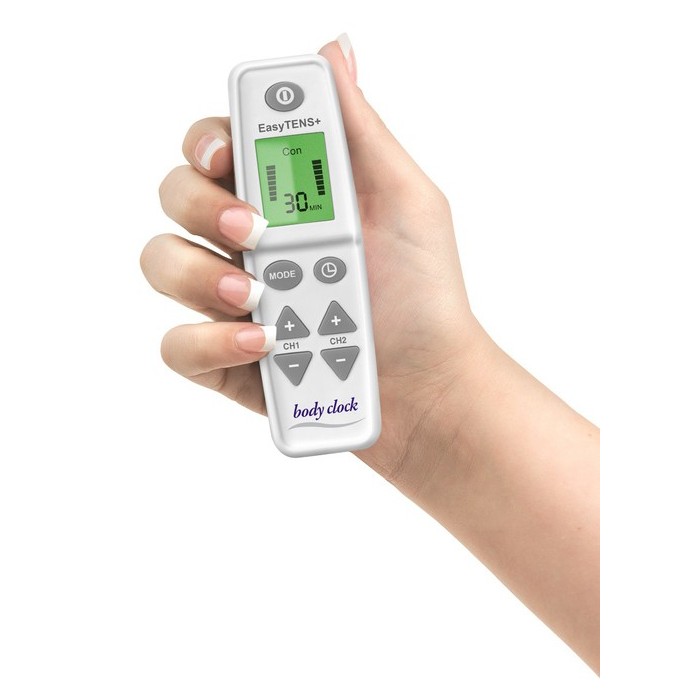 Body Clock Easy Tens Plus - electronic pain relief
CZK 1,338.84 bez DPH
CZK 1,620.00
CZK 1,338.84 without VAT
Delivery 1-3 working days
Two-channel digital light device with a very intuitive way of operation. Simple and effective pain relief.
Je ideální pro řadu akutních i chronických bolestivých stavů.  Vhodný pro koncové uživatele i profesionály.
Může být používán se  2 nebo 4 podložkami s elektrodami. 5 přednastavitelných režimů: konstantní, dávkový, modulovatelný, Han stimulace*, režim se smíšenou frekvencí.
Jednotlivé režimy  lze přizpůsobit podle Vašeho přání. 
*
Han stimulace:
Navržená profesorem Hanem, principem je přepínání mezi dvěma režimy, které způsobí současnou aktivaci encefalinu a dynorfinových systémů, což vytváří účinnější analgetický účinek pro boj s bolestí.
Vlastnosti a výhody
Úprava uživatelského režimu
Malý: 12,5 x 4 x 2cm.
Ultralehký: 52g.
Komplet obsahuje:
4 podložky s elektrodami.
2 napájecí kabely k podložkám.
Řemínek na krk.
Měkké pouzdro Easy Tens+.
2 x AAA baterie.
Návod k použití v českém jazyce.
VAROVÁNÍ: Easy TENS+ by neměl být používán pacienty s kardiostimulátorem. Těhotné ženy a pacienti se srdečním onemocněním nebo s epilepsií by měli použití vždy konzultovat s ošetřujícím lékařem!
NEPOUŽÍVEJTE
při lékařsky NEDIAGNOSTIKOVANÉ bolesti!
NEPOUŽÍVEJTE
při řízení vozidla nebo při obsluze
těžké techniky
!
Data sheet
Height

52g

Size

12,5 x 4 x 2cm

Warranty

5 years
Customers who bought this product also bought: