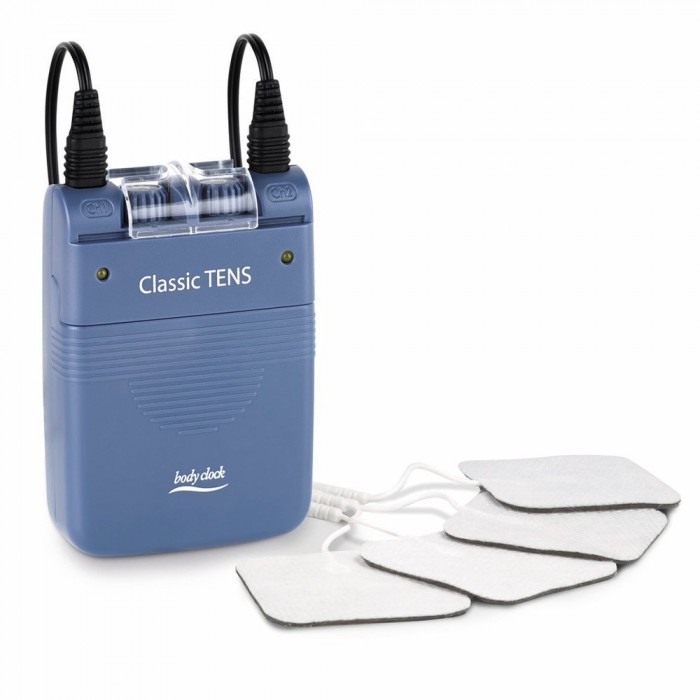 Body Clock Classic TENS - electronic pain relief
CZK 1,066.12 bez DPH
CZK 1,290.00

Price history

Lowest price in the last 30 days: CZK 1,290.00
Sophisticated TENS device for pain relief with an excellent price-performance ratio. The best-selling TENS device for medical professionals and lay users.
USE: Suitable for alleviating acute and chronic pain.
PROPERTIES:
Dual channel - can cover up to two areas of pain at once

Can be used with 2 or 4 electrode pads.

Large controls.

Adjustable pulse frequency 1-150Hz

Adjustable pulse wavelength 50-250μs

3 modes: constant, batch, modulable.

Timer function.

Easy to use.

Durable, removable belt clip.
The set includes:
4 pads with electrodes.
2 power cables to the pads.
Soft cover for Classic Tens.
1 x 9V PP3 battery.
Instructions for use in the Czech language.
WARNING: Classic TENS should not be used by patients with pacemakers. Pregnant women and patients with heart disease or epilepsy should always consult their doctor before use!
DO NOT USE for medically UNDIAGNOSED pain!
DO NOT use while driving or operating heavy machinery!
Data sheet
Height

100g

Size

8,5 x 6,3 x 2,3cm




M. L

10.02.2020

Advantages:
Funguje to




Lenka Š.

20.07.2022

Overall opinion:
Splnil očekávání,jen elektrody vydrží přilnuté na těle jen krátce.
The source of the reviews comes from the Heureka shopping portal
Customers who bought this product also bought: