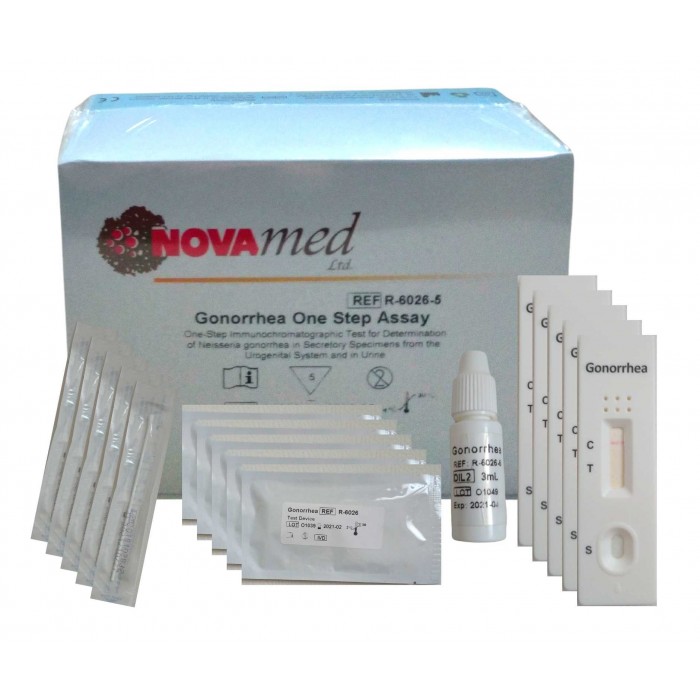 Novamed Gonorrhea test - test for gonorrhea - 5 pcs
CZK 570.25 bez DPH
CZK 690.00

Price history

Nejnižší cena za posledních 30 dnů: CZK 690.00
A quick, simple and reliable test to detect gonorrheal infection caused by Neisseria Gonorrhea from a urogenital specimen. 5 tests in one package.
Gonorrhea is one of the most common sexually transmitted diseases in the Czech Republic. It is subject to mandatory reporting. The causative agent of gonorrhoea is the bacterium Neisseria gonorrhoeae, whose only host is human. Transmission occurs in the vast majority of cases by direct contact with infected mucous membranes. The bacteria preferentially infect the mucous membranes of the urethra, genitals, but also the pharynx or rectum (depending on the sexual practices chosen). In the infected part of the body, the bacteria cause purulent inflammation. Untreated gonorrhea passes into a chronic stage and causes more serious complications (inflammation of the prostate, epididymis, in women gynecological inflammation). The disease can lead to infertility, both in men and women. In women, it can also cause miscarriage or ectopic pregnancy.

The incubation period of gonorrhoea is between 2 and 14 days. In women, the first symptoms usually appear between days 4 and 7 after infection, and in men between days 2 and 5. However, this is not the rule; in some people, the disease may not become apparent for many months. In men the disease is more pronounced (acute inflammation), in women it can be completely asymptomatic. Statistics indicate that up to half of infected women do not experience any symptoms.

Symptoms in men: purulent inflammation of the urethra, urge to urinate, burning sensation when urinating, discharge, blood in the urine, later increased temperature, itching around the anus and discharge (when infected by anal sex) redness and swelling of the mucous membranes of the mouth and face (when infected by oral sex), joint pain.

Symptoms in women: urge to urinate, vaginal discharge, bleeding, bleeding after intercourse and between periods, inflammation of the cervix and urethra, anal discharge, itching (in case of infection by anal sex), redness and swelling of the mucous membranes of the mouth and face (in case of infection by oral sex), joint pain.

The test is performed like a normal genitourinary tract sampling, but you will know the result in minutes in the comfort of your own home.

The Gonorrhoea One-Step-Assay test is definitely worthwhile, for example, for people with time-consuming jobs, who can get an indicative idea of the severity of their health condition in a few minutes.

The tests are also suitable for home diagnosis after treatment.

These diagnostics from the renowned Israeli company Novamed Ltd. have all the necessary health certificates and long-term approvals. The solution is patent protected.


ADVANTAGES
- Safe and accurate detection of Gonorrhea from a sample of the genitourinary tract.
- The result is known in less than 15 minutes.

EASY TO USE
- Unique patented all-in-one device allows for easy testing and evaluation.
- Completely user-safe.
- Anyone can do it!

PACKAGING
- All necessary test components are integrated into a unique platform.
- Individual packaging for easy testing and safe disposal after use.
- Each package contains 5 kits to perform 5 tests.

KIT CONTENTS
Each Gonorrhea One-Step Assay Kit contains everything needed to perform 1 test.
5 Novamed Gonorrhea One Step Cassettes
5 sterile swabs
5 disposable pipettes
5 disposable tubes
1 dropper containing reagent 1 (14ml)
1 dropper containing reagent 2 (6ml)
1 instruction manual in Czech language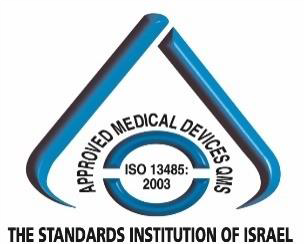 STORAGE AND PRESERVATION
The unopened test kit may be stored at +2 to 30°C until the expiry date. Do not store in direct sunlight, in humid environments or in hot conditions.
Data sheet
Height

0,2

Expiration date:

2024-12




Jarmila V.

12.08.2022

Overall opinion:
Překvapil mě výtok, který jsem předtím neměla a protože mám po delší době počínající vztah, tak jsem se vyděsila. Ptát se partnera na něco takového je pro vztah konečná, tak mě test uklidnil a výtok se zase ztratil. Vpodstatě v době provedení testu už ani nebyl, ale pro jistotu jsem si test udělala. Je snadný a dobře čitelný.
The source of the reviews comes from the Heureka shopping portal
Customers who bought this product also bought: