On sale!
-25%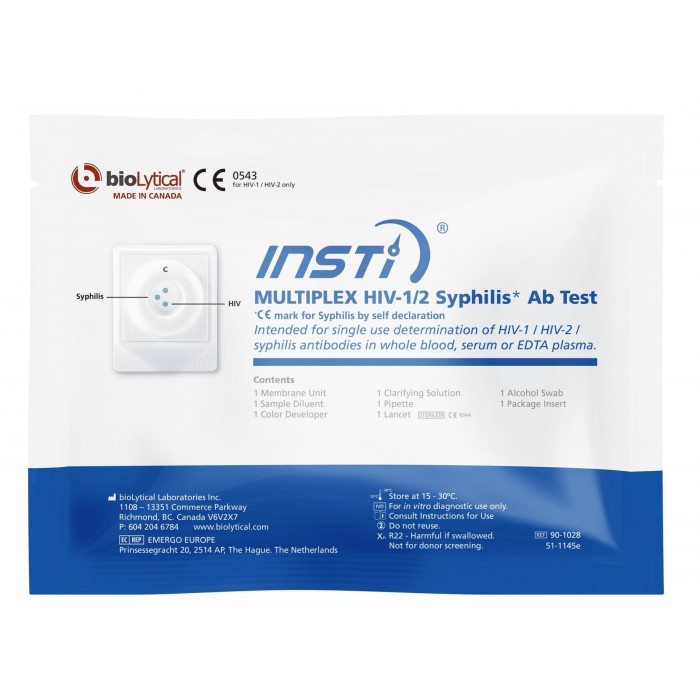 INSTi 2in1 - HIV and syphilis test
CZK 681.82 bez DPH
Save 25%
CZK 825.00
CZK 681.82 without VAT
Delivery 1-3 working days

Price history

Nejnižší cena za posledních 30 dnů: CZK 825.00
The INSTI Multiplex test can detect both HIV and syphilis in 60 seconds in a single test.  A very effective tool to identify people in need of treatment for HIV and/or syphilis to prevent mother-to-child transmission. Not approved for self-testing.
The current increase in HIV and syphilis infections is becoming a worrying problem that is growing worldwide. INSTI's Multiplex HIV-1/2 Syphilis Ab test, developed on INSTI's proven platform, screens for both HIV and syphilis infections simultaneously on a single device in 60 seconds.
The test is performed as a simple fingertip blood drop, but you know the result in minutes.
This diagnostic from the renowned Canadian company BioLytical Laboratories has all the necessary health certificates and long-term approvals. The company is a pioneer in the production of IVD diagnostic tests. It produces both professional tests that are used in hospitals and medical tests suitable for home use.
ADVANTAGES
Speed - the test provides results in as little as 60 seconds.
Sensitivity - Detects IgM and IgG antibodies
Features - Unique immunofiltration "flow-through" design.
Easy to use. Simple design. No timers, no fuss.
Sensitive. 99% accuracy.
Collection lancet (scoop), pipette and alcohol swab included in the test kit.
Membrane prevents spills.
Unique all-in-one device allows for easy testing and evaluation.
Completely user-safe.
ACCURACY
  Sample type      Sensitivity        Specificity
Finger blood   99.3 - 100%   99.0 - 99.8%
SET CONTENTS
INSTi Multiplex HIV-1/2 Syphilis Ab Test Kit is an individually packaged test for both men and women. Each kit contains everything needed to perform 1 test. This test is designed especially for use by professional personnel. It is not yet approved for self-testing.
1 Instructions for use in English
1 Bag with test cartridge 
1 Dilution solution (vial 1)
1 Developing emulsion (vial 2)
1 Visualising solution (vial 3)
1 Disinfectant wipe for single use. 
1 50µl single-use pipette
STORAGE AND PRESERVATION
Store in a dry place at a temperature of +15 to +30°C. Avoid sunlight. Do not store in the freezer. 
Data sheet
Expiration date:

2023-08
Customers who bought this product also bought: