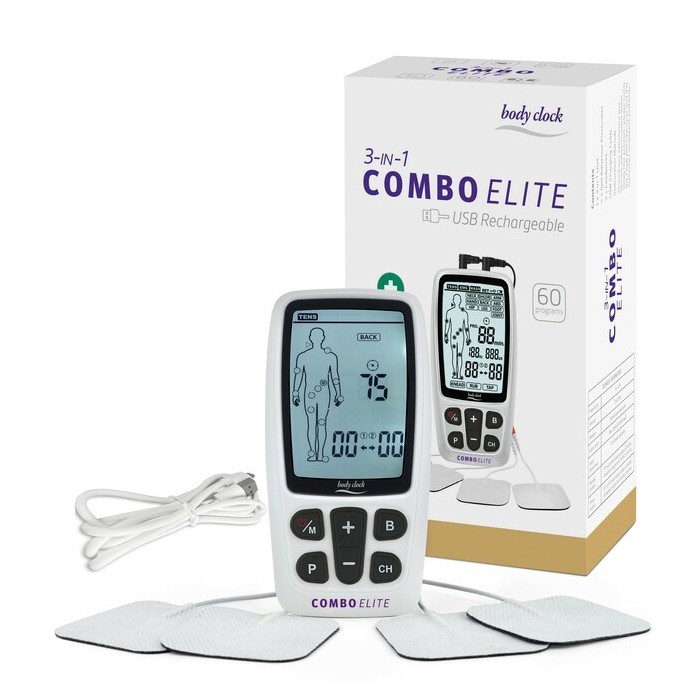 Body Clock 3-in-1 Combo Elite - electrotherapy device with 60 TENS, EMS, MASSAGE programs
CZK 2,801.65 bez DPH
CZK 3,390.00

Price history

Nejnižší cena za posledních 30 dnů: CZK 3,390.00
Dokonalé elektroterapeutické zařízení. Je vybaveno režimy TENS, EMS a MASÁŽ, s přednastavenými a přizpůsobitelnými možnostmi. Ideální pro zmírnění bolestivých stavů, řada tvarovacích a masážních režimů.
The 3-in-1 COMBO Elite is a dual channel TENS, EMS and massage electrostimulator.
The device has three functions - TENS (Transcutaneous Electrical Nerve Stimulation), EMS (Electronic Muscle Stimulation) and MASSAGE.
The 3-in-1 COMBO Elite has 60 programs (30 TENS programs, 27 EMS programs and 3 MASSAGE programs). Each program controls the generation of electrical impulses, their intensity, frequency and duration.
The device works by applying mild electrical impulses, passing through the electrode pads through the skin to the nerves and muscle fibres below. The intensity of the electrical pulses can be independently adjusted by applying 4 self-adhesive electrodes to one or more parts of the body, allowing you to stimulate up to two muscle groups at once using a wide range of standard programmes.
FEATURES:
30 TENS programs (includes 3 customizable programs)
27 EMS programs (includes 3 customizable programs)
3 massage programs
Dual channel - treats up to two areas with different settings for each area.
User mode customization.
Large digital display.
Timer function.
Memory settings.
Easy to use.
Small: 10.9 x 5.45 x 2.3cm.
Very lightweight: 82g.
Set includes:
1 x 3-in-1 COMBO Elite
4 x self-adhesive pads with electrodes
2 x power cables
1 x USB cable
Instructions for use in Czech and English language
WARNING: The 3-in-1 COMBO Elite should not be used by patients with pacemakers. Pregnant women and patients with heart disease or epilepsy should always consult their physician for use!
DO NOT use in medically UNDIAGNOSED pain!
DO NOT use when driving or operating heavy equipment!
Data sheet
Height

82g

Size

10,9 x 5,45 x 2,3cm
In the same category:


Customers who bought this product also bought: