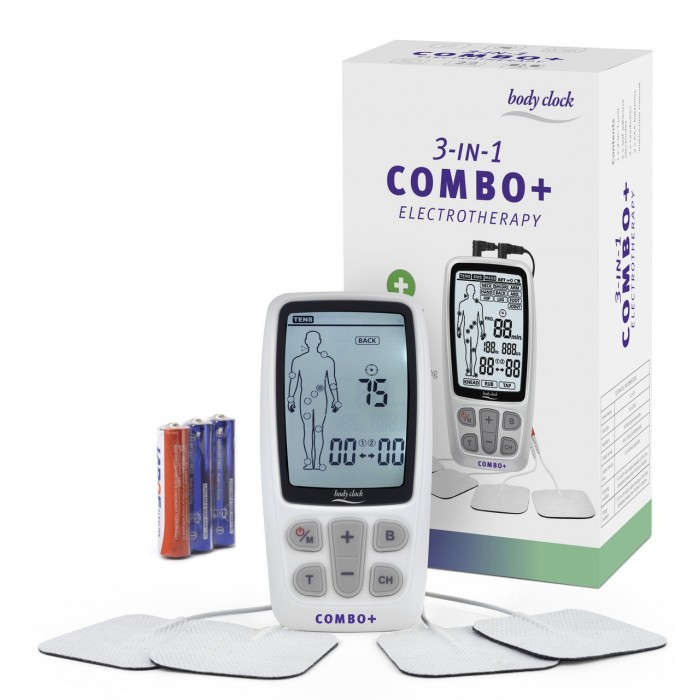 Body Clock 3-in-1 Combo+ - electrotherapy device with 22 TENS, EMS, MASSAGE programs
CZK 2,305.79 bez DPH
CZK 2,790.00
CZK 2,305.79 without VAT
Delivery 1-3 working days

Price history

Nejnižší cena za posledních 30 dnů: CZK 2,790.00
Innovative electrotherapy equipment of the Combo 3in1 series. It offers TENS, EMS and MASSAGE modes, with preset and customizable options. Designed to alleviate painful conditions, a wide range of strengthening and massage modes.
VLASTNOSTI:
9 programů TENS (zahrnuje 3 přizpůsobitelné programy)
8 programů EMS (zahrnuje 3 přizpůsobitelné programy)
5 masážních programů
Duální kanál - ošetřuje až dvě oblasti s různými nastaveními pro každou oblast.
Přizpůsobení uživatelského režimu.
Velký digitální displej.
Funkce časovače.
Nastavení paměti.
Snadné použití.

Malý: 10,9 x 5,45 x 2,3cm.
Velmi lehký: 70 g.

Komplet obsahuje:
4 podložky s elektrodami.




2 napájecí kabely k podložkám.


30 x AAA baterie


Návod k použití v českém jazyce.



VAROVÁNÍ:  3-in-1 COMBO by neměl být používán pacienty s kardiostimulátorem. Těhotné ženy a pacienti se srdečním onemocněním nebo s epilepsií by měli použití vždy konzultovat s ošetřujícím lékařem!
NEPOUŽÍVEJTE

 při lékařsky NEDIAGNOSTIKOVANÉ bolesti!
NEPOUŽÍVEJTE

 při řízení vozidla nebo při obsluze

 těžké techniky

!
Data sheet
Height

76g

Size

10,9 x 5,45 x 2,3cm
In the same category:


Customers who bought this product also bought: