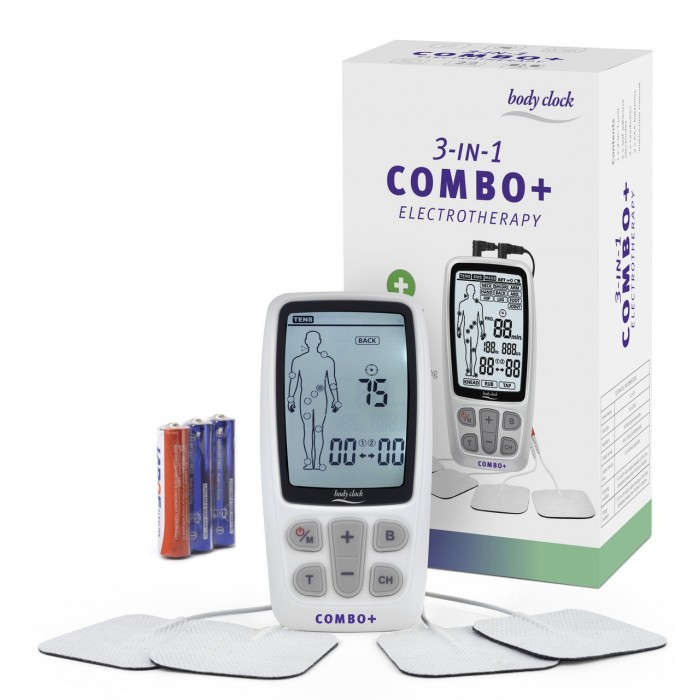 Body Clock 3-in-1 Combo+ - electrotherapy device with 22 TENS, EMS, MASSAGE programs
CZK 2,305.79 bez DPH
CZK 2,790.00
CZK 2,305.79 without VAT
Delivery 1-3 working days

Price history

Lowest price in the last 30 days: CZK 2,790.00
Innovative electrotherapy equipment of the Combo 3in1 series. It offers TENS, EMS and MASSAGE modes, with preset and customizable options. Designed to alleviate painful conditions, a wide range of strengthening and massage modes.
The 3-in-1 COMBO+ Stimulator is specially designed for home use by adults. It is designed for pain management and relief, muscle stimulation and massage.
The device works by the action of mild electrical impulses passing through the pads with electrodes through the skin to the nerves and muscle fibres below.The intensity of the electrical impulses can be independently adjusted thanks to the 4 self-adhesive electrodes on one or more parts of the body, allowing you to stimulate up to two muscle groups at once thanks to the wide range of standard programmes.
The device provides the user with three selectable modes:
TENS mode
The TENS program is used to relieve neck, shoulder, back, joint, hip, arm, abdominal muscle, foot, upper and lower extremity exertional pain after exercise and normal activities.
EMS mode
The EMS program stimulates the muscles to greater performance and overall muscle conditioning.
MASSAGE mode
The MASSAGE program provides muscle relaxation and tension relief.
FEATURES:
10 TENS programs 
9 EMS programs 
3 massage programs
Dual channel - treats up to two areas with different settings for each area.
User mode customization.
Large digital display.
Timer function.
Memory settings.
Easy to use.
Small: 10.9 x 5.45 x 2.3cm.
Very lightweight: 76g.
Set includes:
4 pads with electrodes.
2 power cables for the pads.
3 x AAA batteries.
Instructions for use in Czech language.
WARNING: 3-in-1 COMBO+ should not be used by patients with pacemakers. Pregnant women and patients with heart disease or epilepsy should always consult their physician for use!
DO NOT use in medically UNDIAGNOSED pain!
DO NOT use when driving or operating heavy equipment!
Data sheet
Height

76g

Size

10,9 x 5,45 x 2,3cm
In the same category:


Customers who bought this product also bought: