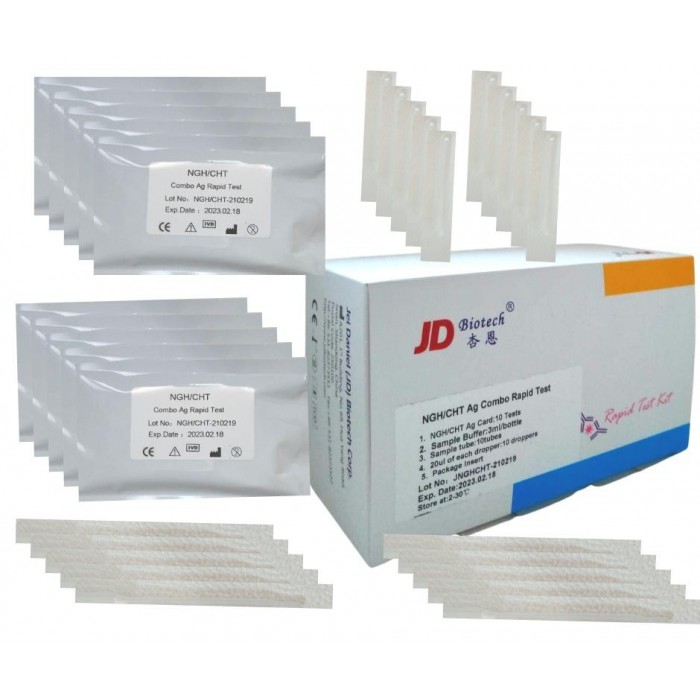 New
JD Biotech test Gonorrhea + Chlamydia - 2in1 - 5 pcs
CZK 818.18 bez DPH
CZK 990.00
CZK 818.18 without VAT
Delivery 1-3 working days

Price history

Nejnižší cena za posledních 30 dnů: CZK 990.00
A quick, simple and reliable home test to detect sexually transmitted infections Neisseria Gonorrhoeae and Chlamydia trachomatis from a urine sample for women and men. The dual test cartridge contains a test space for each of these two infections.
Sexually transmitted infections (STIs) are among the most prevalent causes of disease worldwide and have far-reaching health, social and economic consequences for many countries. The incidence of the acute phase of these diseases is on the rise. Gonorrhoea is an infectious disease caused by the bacterium Neisseria gonorrhoeae and is one of the most common sexually transmitted diseases. It is not only transmitted through sexual contact, but transmission is also possible from mother to newborn. Gonorrhoea is treated with antibiotics. However, resistance to antibiotic treatment is a problem. Chlamydial infection, caused by the bacterium Chlamydia trachomatis, is also one of the most common sexually transmitted diseases. It is a major cause of cervicitis, urethritis, endometrial and pelvic inflammatory disease in women and conjunctivitis and pneumonia in newborns. In men, chlamydial infection causes discharge from the penis, burning when urinating, burning or itching around the urethra, pain and swelling of one or both testicles (more rarely). If chlamydia infects the anus, symptoms in both women and men may include pain in this area, discharge or bleeding.
Investigative methods to diagnose infection include cell culture, fluorescence, enzyme-linked immunosorbent assay (ELISA), DNA detection by PCR and immunological detection of antibodies. The JD BioTech Rapid Test for the Detection of Sexually Transmitted Gonorrhoeae and Chlamydia Infections is an antigen-based test and works by immunochromatographic assay for the qualitative detection of Neisseria Gonorrhoeae and Chlamydia trachomatis in a urine sample. 
The test is performed like a normal urine collection, but you will know the result in a few minutes right in the comfort of your home.
The JD BioTech test for Gonorrhoea + Chlamydia - 2in1 is definitely worthwhile, for example, for people with time-consuming jobs who can get a rough idea of the severity of their health condition in a few minutes.
The tests are also suitable for checking home diagnostics after treatment.
This diagnostic from the renowned Taiwanese company JD BioTech Corp. has all the necessary health certificates and long-term approvals.
ADVANTAGES
- Safe and accurate detection of Neisseria Gonorrhoeae, Chlamydia trachomatis in urine.
- The result is known in 15 minutes.
EASY TO USE
- Unique all-in-one device allows for easy testing and evaluation.
- Completely user-safe. 
- Anyone can do it!
PACKAGING
- All necessary test components are integrated into a unique platform.
- Individual packaging for easy testing and safe disposal after use.
CONTENTS OF THE PACKAGE
Each kit contains everything needed to perform 10 tests:
1. 10pcs plastic bags containing:
- 2in1 test cartridge with NG part (for gonorrhea test) and CHT part (for chlamydia test).
- one dropper (20ul per dropper)
- one moisture absorbent.
2. Reagent solution (3ml for 20 tests).
3. 10 test tubes.
Instructions for use in the Czech language.
STORAGE AND PRESERVATION
Store in a dry place at a temperature between 2 and 30°C. Avoid sunlight. Do not store in the freezer.
Data sheet
Expiration date:

2023-10-11
Customers who bought this product also bought: