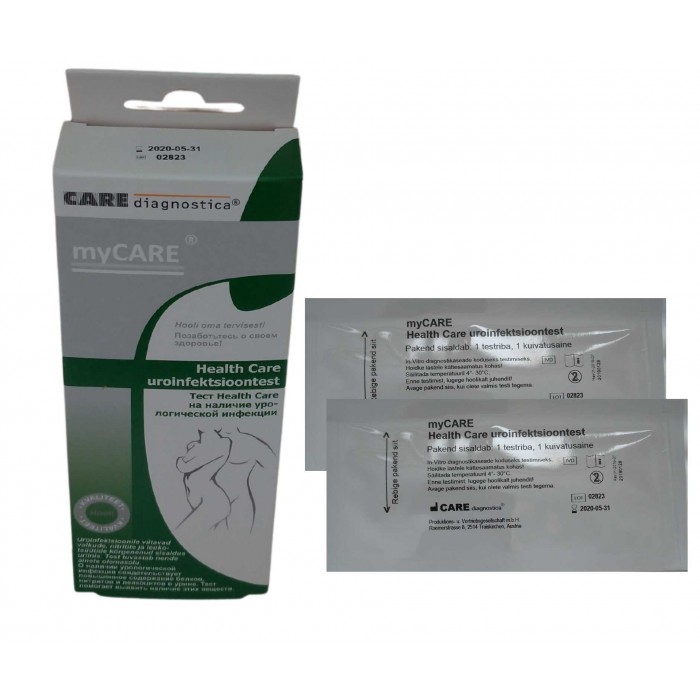 Care Diagnostica Urinary Infection Test - home test for urinary tract infection - 2 pcs
CZK 404.96 bez DPH
CZK 490.00
CZK 404.96 without VAT
Delivery 1-3 working days

Price history

Lowest price in the last 30 days: CZK 490.00
A quick, simple and reliable test to detect urinary tract infection. The test detects the presence of protein, nitrites and/or leukocytes in the urine. The package contains 2 test strips.
Urinary tract inflammation is an unpleasant infectious disease of the bladder, urethra or urinary tract. Urinary tract infections can range from a subtle inflammation that doesn't cause major problems to a dangerous bacterial inflammation that threatens your kidneys.

Urinary tract infections (UTIs) are the second most common location of bacterial infections after respiratory tract infections. Up to one half of women will experience at least one urinary tract infection in their lifetime. In men, they are less common, occurring in only about one in five. This is mainly due to the anatomical structure of the urinary tract. In women, compared to men, the urethra is shorter and is located close to the gynaecological tract and also close to the anus. All this facilitates the entry of bacteria into the urinary tract. Hence, the most common point of entry for infection is through the urethra.

How does urinary tract inflammation manifest itself?
By frequent urges to urinate.
Burning and cutting when urinating.
Pain in the lower abdomen and urethra.
Cloudy and foul-smelling urine.
Blood in the urine.

If the infection spreads to the kidneys, there is severe pain in the loins, rise in body temperature to fever and chills. In this case, it is necessary to seek medical attention immediately.

The examination is carried out as a urine sample collection and test, you will know the result in a few minutes right in the comfort of your home.

The Viola Urinary Test is definitely worthwhile, for example, for busy women who can get an idea of the severity of their health condition in a few minutes. It also eliminates the not always pleasant necessity of visiting a specialist when there is only a slight suspicion of possible inflammation. The tests are also suitable for home diagnostics after treatment.

These diagnostics from the renowned Austrian company CARE diagnostica have all the necessary health certificates and long-term approvals.

ADVANTAGES
- Safe and accurate home detection of urinary tract infection from a urine sample.
- The result is known within minutes.

EASY TO USE
- Simple all-in-one device allows easy testing and evaluation.
- Completely user-safe.
- Anyone can do it!

SET CONTENTS
2 foil bags with test strip and desiccant (2 tests)
Instructions for use in English

STORAGE AND PRESERVATION
The unopened test kit can be stored at a temperature between 4 and 30°C until the expiry date. Do not store in direct sunlight, in humid environments or in hot weather.
Data sheet
Expiration date:

2023-12
Customers who bought this product also bought: