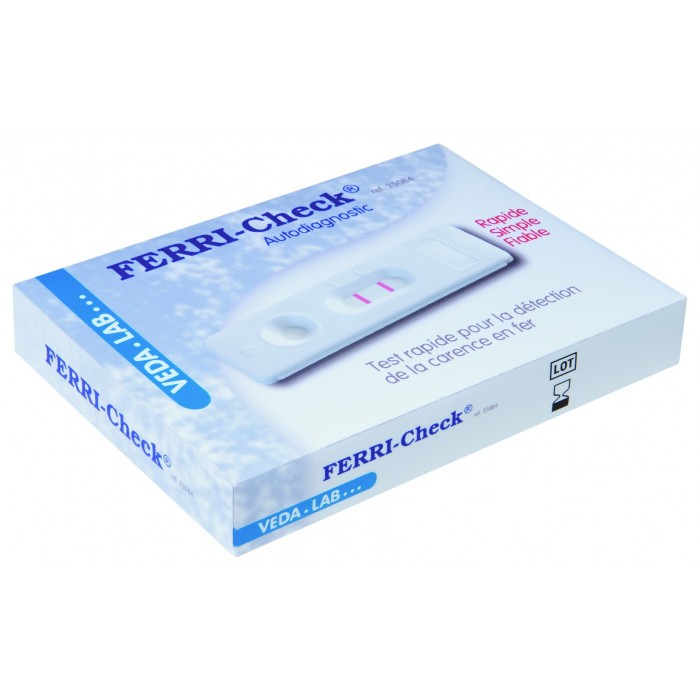 Veda Lab Ferritin test - home test for iron levels
CZK 322.31 bez DPH
CZK 390.00
CZK 322.31 without VAT
Delivery 1-3 working days

Price history

Lowest price in the last 30 days: CZK 390.00
Veda Lab Ferritin test to determine iron deficiency in the human body. Simple, fast, reliable.
Iron deficiency in the human body is caused by inadequate intake and absorption of iron from the diet, loss of iron due to bleeding (e.g. menstruation, pathological bleeding, gastric and duodenal ulcers), during pregnancy or during growth. Iron deficiency has serious health consequences for the body.
Fatigue, headache, pallor of the skin and mucous membranes, chest palpitations or shortness of breath are among the possible symptoms of iron deficiency in the body.
In most cases, young children and pregnant women suffer from iron deficiency. An important source of iron in the body is a protein complex called ferritin. Therefore, ferritin in blood serum is a laboratory indicator of the total amount of iron stored in the body.
The test is performed like a normal capillary blood draw from the fingertip, but you can know the result in minutes right in the comfort of your own home.
The Veda Lab Ferritin test is definitely worthwhile, for example for people with time-consuming jobs, who can get a rough idea of the severity of their health condition in a few minutes.
The tests are also suitable for checking home diagnostics.
These diagnostics from the renowned French company Veda-Lab have all the necessary health certificates and long-term approvals. 
ADVANTAGES
- Fast, safe and accurate detection of iron levels in the body from capillary blood.
- The result is known in less than 15 minutes.
EASY TO USE
- Simple all-in-one device allows for easy testing and evaluation.
- Completely user-safe. 
- Anyone can do it!
SET CONTENTS
The test kit contains everything needed to perform 1 test.
- 1 aluminium bag containing:
     1 test cartridge
     1 pipette
     1 desiccant bag
     1 sterile lancet for blood collection
     1 dropper bottle containing 1 ml of reagent solution
    1 disinfectant wipe
- Instructions for use in English
STORAGE AND PRESERVATION
Not for internal use.
Keep out of reach of children
Protect from sunlight, do not freeze.
Store in a dry place at 4° C to 30° C.
Do not use after the expiry date stated on the packaging.
Data sheet
Expiration date:

2025-08
Customers who bought this product also bought: