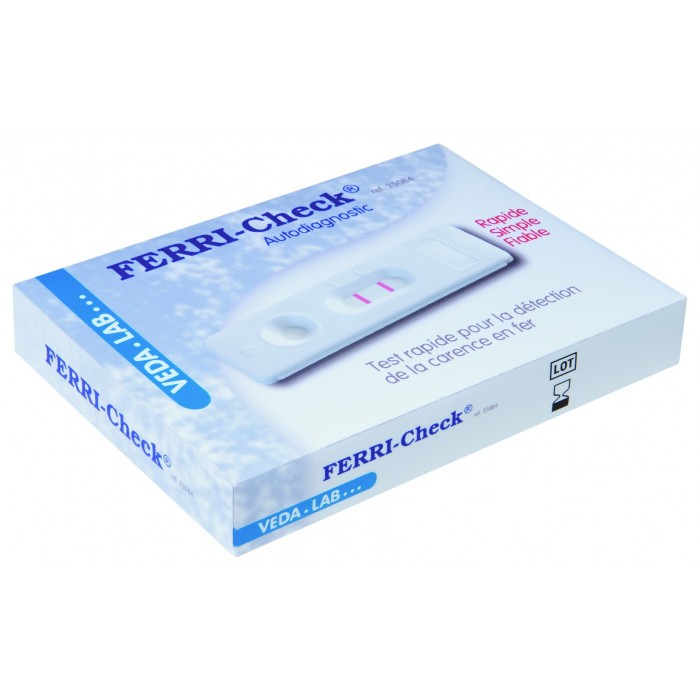 Veda Lab Ferritin test - home test for iron levels
CZK 322.31 bez DPH
CZK 390.00
CZK 322.31 without VAT
Delivery 1-3 working days

Price history

Nejnižší cena za posledních 30 dnů: CZK 390.00
Veda Lab Ferritin test to determine iron deficiency in the human body. Simple, fast, reliable.
Nedostatek železa v lidském těle je způsoben nedostatečným příjmem a vstřebáváním železa ze stravy, ztrátami železa v důsledku krvácení (např. menstruací, patologickým krvácením, vředovou chorobou žaludku a dvanácterníku), také během těhotenství nebo v období růstu. Deficit železa mívá pro organismus závažné zdravotní důsledky.

Únava, bolest hlavy, bledost kůže a sliznic, bušení na hrudi nebo dušnost patří mezi možné příznaky nedostatku železa v těle.
Trpí jím ve většině případů malé děti a těhotné ženy. Důležitým zásobním zdrojem železa v organismu je bílkovinný komplex zvaný feritin. Proto je feritin v krevním séru laboratorním ukazatelem celkového množství železa uloženého v těle.
Vyšetření se provádí jako běžný odběr kapilární krve z konečku prstu, ale výsledek znáte za pár minut přímo v pohodlí domova.
NANO Repro Ferritin test  se určitě vyplatí například lidem s časově náročným zaměstnáním, kteří si díky němu mohou během několika minut udělat orientační představu o závažnosti svého zdravotního stavu.
Testy jsou vhodné i pro kontrolní domácí diagnostiku.
Tato diagnostika od renomované německé společnosti Nano Repro AG má veškeré potřebné zdravotní certifikáty a dlouhodobé atesty. 
VÝHODY
• Rychlá, bezpečná a přesná detekce hladiny železa v těle z kapilární krve.
• Výsledek je znám za méně než 10-15 minut.
SNADNÉ POUŽITÍ
• Jednoduché zařízení typu all-in-one umožňuje snadné testování a vyhodnocení.
• Uživatelsky zcela bezpečné. 
• Zvládne to každý!
BALENIE
Testovacia sada obsahuje všetko potrebné na vykonanie 1 testu.
Priložené hliníkové vrecúško obsahuje:
1 testovací kazeta (Ferritin) v uzavretom obale
1 pipeta
1 sklenená kapilára v ochrannom puzdre
1 nádobka s roztokom činidla
1 automatická sterilná lanceta
1 dezinfekčný obrúsok
1 náplasť
1 návod na použitie v českom jazyku

SKLADOVANIE A UCHOVÁVANIE
Nie je určené pre vnútorné použitie.
Udržujte mimo dosah detí
Chráňte pred slnečným svetlom, nezmrazujte.
Skladujte na suchom mieste pri teplote 10 ° C až 27 ° C
Nepoužívajte po dátume exspirácie, uvedený na obale.
Data sheet
Expiration date:

2023-12
Customers who bought this product also bought: