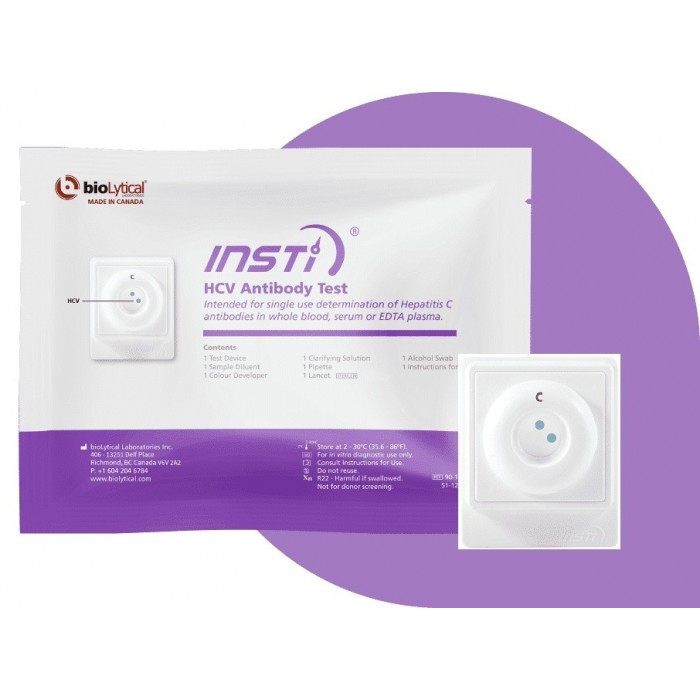 INSTi HCV - test na žloutenku typu C
CZK 487.60 bez DPH
CZK 590.00
CZK 487.60 without VAT
Delivery 1-3 working days

Price history

Lowest price in the last 30 days: CZK 354.00
A quick and easy test for detecting hepatitis C from papillary blood samples for women and men. Very simple to perform, no timers. Results in 15 minutes
Hepatitis C virus (HCV) is one of the RNA viruses of the Flaviviridae family that causes most, if not all, non-A and non-B hepatitis.The virus was only discovered in 1989 with more than 60 subtypes and 7 genotypes (1-7). HCV is a major cause of kidney disease and can cause acute and chronic hepatitis. HCV is a blood-borne virus transmitted with an infected person or blood derivatives. Typical modes of transmission include the use of an infected syringe among drug users, unsterile needle use (tattooing), transfusion of untreated blood and blood derivatives, and sexual practices that may involve injury and contact with the blood of an infected person. Newly infected individuals are usually asymptomatic and can be diagnosed with early infection. While up to 30% of those infected will overcome the infection without any treatment, 70% of those infected will develop a chronic form of HCV infection, which may result in cirrhosis or liver cancer. Chronic HCV infection often runs asymptomatically for decades until symptoms indicating severe liver damage appear. It is estimated that more than 71 million people suffer from chronic HCV worldwide.
Patients with acute and chronic hepatitis C are continuously monitored in special liver disease clinics, hepatology clinics. Antiviral treatment is prescribed and managed by a specialist. Standard treatment today usually involves subcutaneous injections once a week, supplemented by the daily use of tablets. 
The presence of antibodies to HCV is indicative of ongoing infection in a person with possible transmission of the virus.
The test is done as a simple blood drop from the fingertip, and you know the result in a few minutes.
This diagnostic from the renowned Canadian company BioLytical Laboratories has all the necessary health certificates and long-term approvals. The company is a pioneer in the production of IVD diagnostic tests. It produces both professional tests that are used in hospitals and medical tests suitable for home use.
ADVANTAGES
You will get very accurate results immediately.
Easy to use. Simple design. No timers, no fuss.
Sensitive. 99% accuracy.
Removable lancet (lance) included.
Membrane prevents spills.
Unique all-in-one device allows for easy testing and evaluation.
Completely user-safe.
SET CONTENTS
INSTi HCV Self Test Kit is an individually wrapped box for both men and women. Each kit contains everything needed to perform 1 test. The test is not yet approved for self-testing.
1 Instructions for use in English
1 Test Cassette Bag 
1 Dilution solution (1 vial)
1 Developing emulsion (vial 2)
1 Visualising solution (vial 3)
1 Disinfectant wipe for single use.
1 Single-use blood collection scoop
1 50µl single-use pipette
STORAGE AND PRESERVATION
Store in a dry place at a temperature of +2 to +30°C. Avoid sunlight. Do not store in the freezer.
Data sheet
Expiration date:

2024-10
Customers who bought this product also bought: