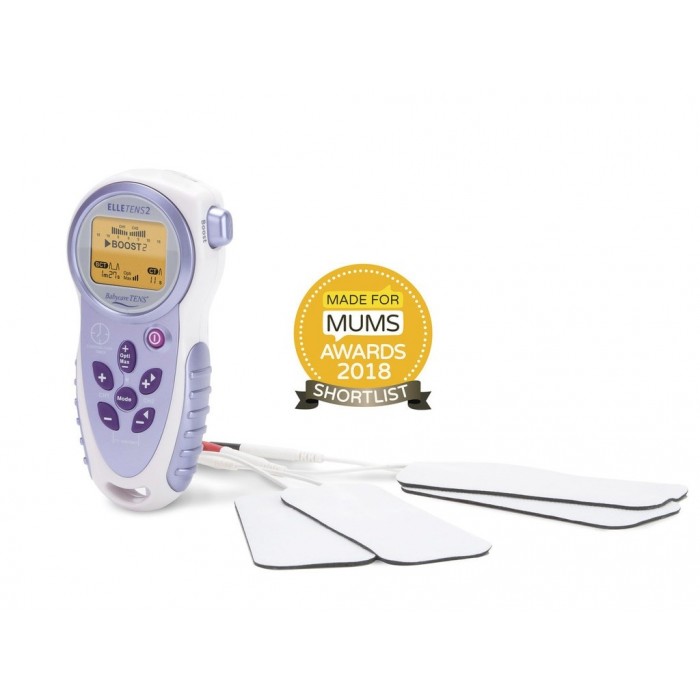 Body Clock Elle TENS2 - pain relief during labor
CZK 2,438.02 bez DPH
CZK 2,950.00
CZK 2,438.02 without VAT
Delivery 1-3 working days

Price history

Lowest price in the last 30 days: CZK 2,950.00
It offers maximum pain relief during and after childbirth. Simple operation, all settings are preset, integrated contraction timer, improved user interface and backlight.
Elle TENS2 is the cutting edge latest TENS device to assist in childbirth. All settings are pre-set, so operation is very simple. Elle TENS2 uses the latest Opti-Max technology.

What is Opti-Max? It provides an extra powerful pulse to help control pain. It is often used in the final stages of labour - when it is most needed. Opti-Max is a feature of both the Elle TENS2 and Elle TENS+ devices.

The Elle TENS2 can also be used for postpartum difficulties, as well as back pain, shoulder pain, menstrual difficulties and many others.

FEATURES:
4 large self-adhesive pads with electrodes.
Contraction timer.
Large user backlit LCD display.
Preset modes for easy use during contractions.
Optimax technology for greater pulse strength.
Integrated Boost button (press during contraction).
Compact and lightweight.
Safe and easy to use.
Adjustable pulse intensity.
Ergonomic design.
Neck lanyard and belt clip for attachment allows movement during application.
Can also be used for postpartum pain relief.

Kit includes:
4 pads with electrodes.
2x power cord (+ 1 spare).
2 x AA batteries (+ 2 spare).
Lanyard.
Soft carrying case for the device.
Instructions for use in English.

WARNING:
Elle TENS2 must not be used simultaneously with a pacemaker. Pregnant women with heart disease or epilepsy should always consult a physician for use! Do not use TENS before 37 weeks of pregnancy without a doctor's advice.

DO NOT use for medically UNDiagnosed pain!


Data sheet
Height

75g

Size

115mm x 55mm x 30mm




V. K.

13.10.2022

Advantages:
Doporučeno mojí porodní asistentkou. Pomohlo mi to.
The source of the reviews comes from the Heureka shopping portal
In the same category:



Customers who bought this product also bought: