On sale!
-40%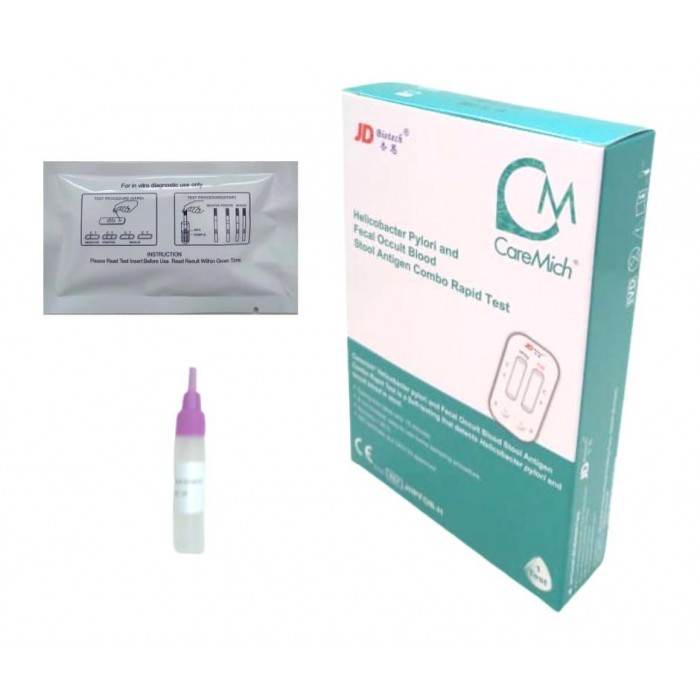 JD BioTech test - Helicobacter pylori + Fecal Occult Blood 2v1
CZK 213.22 bez DPH
Save 40%
CZK 258.00
CZK 213.22 without VAT
Delivery 1-3 working days

Price history

Lowest price in the last 30 days: CZK 258.00
A quick, simple and reliable home test to detect Helicobacter Pylori infection and occult bleeding in the stool.
There are many diseases that can cause hidden bleeding in the stool. Early-stage colon cancer, inflammation, diverticulitis, ulcers, polyps and other diseases are manifested by hidden bleeding in the stool while the patient has not yet noticed any other symptoms.
The JD BioTech Helicobacter pylori and occult bleeding stool test 2in1 is accurate and easy to interpret. The test is very sensitive, being able to detect as little as 20ng/ml of hemoglobin in a stool sample. The accuracy of the test is not affected by medications, administration of plasma expanders, anticoagulants used and does not require dietary restrictions.
Helicobacter pylori (H. pylori) is one of the most common infections with approximately 50% prevalence in the human population. H. pylori infection is a significant factor in dyspeptic syndrome, peptic ulcer (gastric and duodenal), gastric cancer and MALT lymphoma. H. pylori infection can be diagnosed by invasive and non-invasive investigative methods. Invasive investigative methods include endoscopic examination and rapid urease test, histology and culture. Non-invasive investigative methods include urease breath test and haemoccult test. The JD Biotech Rapid Test for the Detection of Helicobacter pylori and Occult Bleeding in Stool is a rapid, non-invasive and easy to perform test to detect active H. pylori infection. It can also monitor the effectiveness of treatment and can be used to confirm that the patient is cured after antibiotic use. 
The test is performed as a routine stool sample collection, and you will know the result in a few minutes right in the comfort of your home.
The JD BioTech 2in1 test for the detection of Helicobacter pylori and occult bleeding in the stool is definitely worthwhile, for example for people with time-consuming jobs who can get an indicative idea of the severity of their health condition in a few minutes.
The tests are also suitable for home diagnosis after treatment.
This diagnostic from the renowned Taiwanese company JD BioTech Corp. has all the necessary health certificates and long-term approvals.
ADVANTAGES
- Safe and accurate detection of Helicobacter pylori and occult bleeding in stool.
- The result is known in 15 minutes.
EASY TO USE
- Unique all-in-one device allows for easy testing and evaluation.
- Completely user-safe. 
- Anyone can do it!
PACKAGING
- All necessary test components are integrated into a unique platform.
- Individual packaging for easy testing and safe disposal after use.
CONTENTS OF THE PACKAGE
The test kit is an individually packaged box for women and men designed for home use.
Each kit contains everything needed to perform 1 test:
1. One white plastic bag: the bag contains one HP and OK test cartridge and one moisture absorbent.
2. One sample tube with 0.5ml of reagent solution (0.01%Tris-HCl, pH 7.5, 0.1% NaN3)
3. Paper carton for stool collection.
Instructions for use in the Czech language.
STORAGE AND PRESERVATION
Store in a dry place at a temperature between 2 and 30°C. Avoid sunlight. Do not store in the freezer.
ACCURACY 
HP test: sensitivity is 92%, specificity is 96.7%, accuracy: 95.3%.
FOB test: specificity ≥99%
Data sheet
Expiration date:

2023-11-01 extended by the manufacturer until 2024-01
Customers who bought this product also bought: