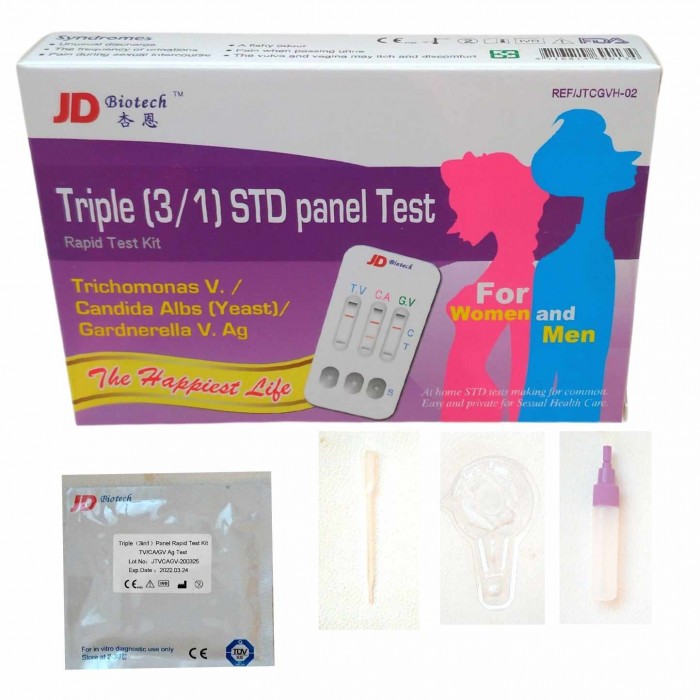 JD BioTech test - detection of sexually transmitted infections 3 in 1
CZK 495.87 bez DPH
CZK 600.00
CZK 495.87 without VAT
Delivery 1-3 working days

Price history

Nejnižší cena za posledních 30 dnů: CZK 600.00
A quick, simple and reliable home test to detect Trichomonas vaginalis, Candida albicans, Gardnerella vaginalis infection from a urine sample for women and men. The triple test cassette contains an individual test space for each of these three infections.
Sexually transmitted infections (STDs) are diseases transmitted through sexual contact. Their spread is closely linked to sexual practices and behaviour. These diseases are transmitted by mucosal secretions, blood, saliva or semen. In recent years, there has been a large increase in this type of disease worldwide. They mainly affect the genital tract, possibly the urinary tract or other organs. At present, more than 20 such diseases are known to occur. The causative agents are viruses (genital herpes, genital warts, HIV/AIDS), bacteria (chlamydia, gonorrhoea, syphilis) or parasites (trichomoniasis, louse moth). The absence of diagnosis and treatment of STDs at an early stage leads to serious complications with consequences in the form of infertility, fetal damage, ectopic pregnancy, genital and rectal cancers, and premature death due to neonatal and childhood infections.

Symptoms. In Candida albicans infection, a strong smelly discharge of a lumpy consistency and vulvar pain are present. The vagina tends to be engorged, the vulva reddened and abrasions may occur. The woman may experience uncomfortable to painful sensations during intercourse. Trichomonas vaginalis is a protozoan of the flagellate order, capable of sexual transmission and found predominantly in low socioeconomic strata. The patient with trichomoniasis usually reports a strong foamy yellow-green vaginal discharge, irritation and pain in the vulva, perineum and thighs, discomfort or pain during intercourse, burning and cutting sensations during urination.

The examination is performed like a normal urine collection, but you will know the result in a few minutes right in the comfort of your home.

The JD BioTech 3-in-1 STI test is definitely worthwhile for people with time-consuming jobs, for example, who can get a rough idea of the severity of their health condition in just a few minutes.

The tests are also suitable for home diagnosis after treatment.

These diagnostics from the renowned Taiwanese company JD BioTech Ltd. have all the necessary health certificates and long-term approvals. The solution is patent protected.

ADVANTAGES
- Safe and accurate detection of Trichomonas vaginalis, Candida albicans, Gardnerella vaginalis in urine.
- The result is known in 15 minutes.

EASY TO USE
- Unique all-in-one device allows for easy testing and evaluation.
- Completely user-safe.
- Anyone can do it!

PACKAGING
- All necessary test components are integrated into a unique platform.
- Individual packaging for easy testing and safe disposal after use.

CONTENTS OF THE PACKAGE
Rapid Test Test Kit is an individually packaged box for women and men designed for home use.
Each kit contains everything needed to perform 1 test.
1. One white plastic bag: The bag contains one test card and one moisture absorbent.
2. One purple resealable bag:
The bag contains one dropper with a measuring line.
One urine dipstick.
One sample tube (with purple cap) with 0.5ml of reagent. Contains 0.01% Tris-saline, 0.05% Sodium Azide, 0.1% Tween-20/detergent, pH 7.5.
3. Instructions for use in Czech and English.

STORAGE AND PRESERVATION
Store in a dry place at a temperature between 2 and 30°C. Avoid sunlight. Do not store in the freezer.
Data sheet
Expiration date:

2023-10-11




Dagmar V.

23.10.2022

Overall opinion:
velmi vhodné pro každého , kdo se necítí komfortně a chce mít jistotu,výsledky do 15 minut
The source of the reviews comes from the Heureka shopping portal
Customers who bought this product also bought: