On sale!
-50%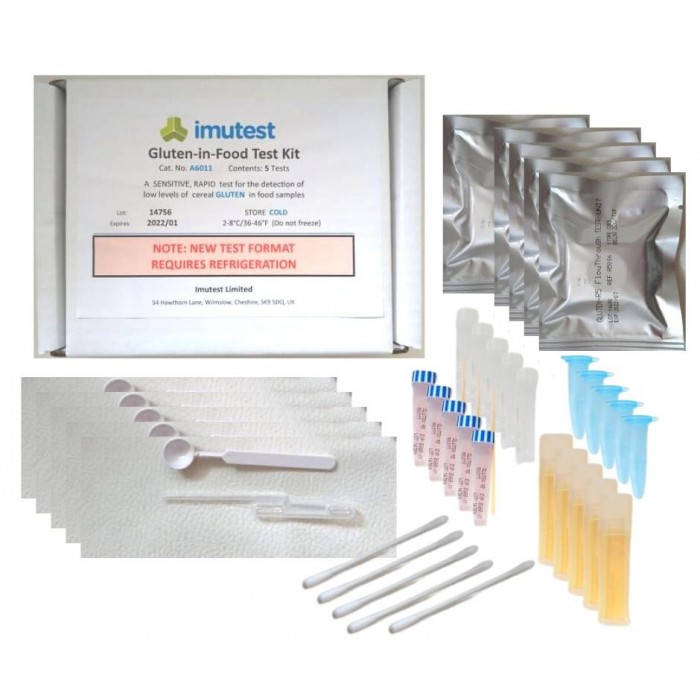 Imutest Gluten-in-Food - test for gluten content in food - 5 pcs
CZK 888.43 bez DPH
Save 50%
CZK 1,075.00
CZK 888.43 without VAT
Delivery 1-3 working days

Price history

Lowest price in the last 30 days: CZK 1,075.00
The Imutest Gluten-in-Food kit is a set of qualitative tests for home detection of gluten in raw materials, semi-finished products and finished food.
Celiac disease is a lifelong disease caused by gluten intolerance. People with this intolerance develop inflammation of the mucosa of the small intestine due to gluten, which leads to the destruction of mucosal villi and microvilli. As a result, the surface of the small intestine shrinks, reducing its ability to digest and absorb nutrients. 
Typical symptoms of celiac disease are diarrhoea, flatulence, abdominal cramps, weight loss and fatigue.
This disorder can manifest itself at any age - in childhood and adulthood. In children, celiac disease most often appears soon after they are first given a diet containing gluten. In most cases, children begin to suffer from diarrhoea, and bulky and smelly stools are typical. Abdominal pain may be present and gradually increase in intensity. Children lose their appetite, are often tearful and cranky. They lose weight and grow little, do not thrive. Anemia, caused by iron deficiency, may also occur.
In older children and in adults, the disease may become apparent after significant stress (e.g. illness, pregnancy). Symptoms are: reduced appetite, diarrhoea, bloating and constipation. However, instead of intestinal manifestations, a patient with celiac disease may also suffer from extra-intestinal manifestations such as anaemia, osteoporosis (thinning of the bones), increased tooth decay, aphthae, enamel disorders, joint pain, fatigue, or mental disorders such as depression and anxiety. In women, celiac disease may be associated with later onset and irregularity of menstruation, and infertility and spontaneous abortion are common.
Gluten-in-Food Test Kits from Imutest Ltd. can help you verify the low gluten level of raw materials before use in manufacturing and the "gluten-free" status of partially processed or finished products. The tests have been designed to be simple enough to test outside the laboratory with minimal equipment, but sensitive enough to confirm that the gluten content of a wide range of food commodities and products will comply with the international Codex Standard 118:1979 (2015) and local regulations, e.g. less than 20 mg/kg gluten content under EU-1169/2011 and 609/2013 regulations for "gluten-free" foods.
BENEFITS
- Relatively fast, simple and very accurate home detection of gluten content in food.
- In case of doubts about the composition of food when eating for people with coeliac disease. 
EASY TO USE
Gluten-in-Food tests are performed in five steps. It usually takes about 10 minutes to perform a gluten-in-food test (plus up to 40 minutes for sample preparation/extraction). After sample collection and preparation, the sample is extracted in a yellow extraction solution (optional heating and/or centrifugation). A portion of the sample is then diluted and poured into the test cartridge; any gluten present is bound to the test site (T) on the left side of the test compartment. The presence of gluten is indicated - after the addition of the pink colour reagent - by the formation of a pink stain on the side (T). A pink control spot also appears on the right side of the test area (C), indicating that the test for gluten in food has worked correctly.
PACKAGING
The test kit contains everything needed to perform 5 tests:
0.5cm2 plastic sample scoop
Piston capped bottle containing YELLOW extraction solution
Self-measuring pipette (100μL/0.100ml)
Screw-cap bottle containing COLOURLESS solution
Test cartridge in foil with desiccant 
PINK coloured reagent in BLUE vial 
Instructions for use in Czech and English
STORAGE AND PRESERVATION
The test kit should be stored in a refrigerator between 2-8 C and used at normal room temperature. Test components should only be used until the expiration date.Test components should only be used as they are available. After opening the plastic container, use the test unit as soon as possible, but no later than 8 hours after opening. Use the test cartridge only if it is not damaged and the desiccant is coloured yellow/light green. Dispose of used test components in normal waste.
Data sheet
Expiration date:

2023-10 - extended by the manufacturer until 2024-01
Customers who bought this product also bought: